Ruby Rejser Opens an Office at Aalborg Airport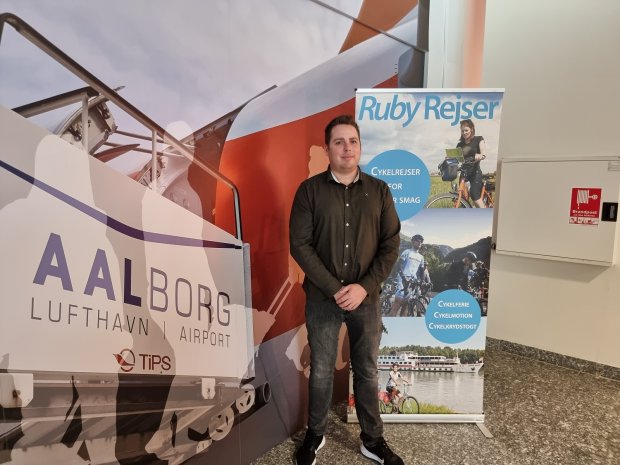 The Danish travel agency, Ruby Rejser, has set its course north and on the 28th of October, they will officially open a brand new office in Aalborg Airport's terminal, where they offer experience-rich special trips - from active cycling and hiking holidays to snow-filled ski holidays and cultural tours to Svalbard.
Ruby Rejser [Ruby Travel] has, since its first sold trip almost 50 years ago, focused on active holidays, combined with nature and cultural experiences to large parts of the world. In recent years, the popularity and demand for this type of package tour in particular has increased significantly. That is why Ruby Rejser is now expanding their presence in Jutland, with a new office at Aalborg Airport from the 28th of October, where everyone can come by for a chat about their many different travel experiences.
Strong Travel Profile to Lead new Airport Office
A specialized travel agency does not compromise on quality and expertise, which is why the North Jutland guests are taken well care of when they come to visit the new office. It is Morten Meyer who will lead Ruby Rejser at Aalborg Airport, and with 20 years of experience in the travel industry, he is the right person to turn the big travel dream into an experience of a lifetime.
- As a resident in North Denmark and with many years of experience in the North Jutland travel industry, I am very much looking forward to showing North Jutland what Ruby Rejser has to offer. You have to say that I join an exciting journey, and in the same way as many of the journeys themselves, it starts at Aalborg Airport. It is absolutely ideal to have a central office, where it is possible to have a good conversation directly with the customer about the many different trips at Ruby Rejser. All trips are carefully planned from start to finish – whether it is by skis, bikes, rails, by ship or just you and the nature, says Agency Manager Morten Meyer.
Active Holidays with a Focus on Unique Travel Experiences
Ruby Rejser has been part of the Sunway Group since 2015, which includes a number of other specialist travel agencies, with a focus on, for example, active holidays, trips by ship and trips to Disneyland. Ruby Rejser is primarily specialized in ski holidays, hiking holidays, cycling holidays, Hurtigruten, Northern Lights trips, cultural trips and group trips.
- At Aalborg Airport, we would like to create the best conditions for a good travel experience, which is why it is fantastic that a travel agency like Ruby Rejser opens an office here at the airport. Their expertise and type of travel speak to a growing need for unique package tours, where the only responsibility the guest has is to enjoy the trip. At the same time, Ruby Rejser offers active travel experiences as an alternative to the more relaxing charter trip. Whether it's a cycling holiday on the winding mountain roads of Gran Canaria or a pilgrimage on the Camino, Ruby Rejser has something for everyone who appreciates an active holiday experience, says CEO Niels Hemmingsen.