Wanderlust and Holiday Planning Peaked at Aalborg Travel Festival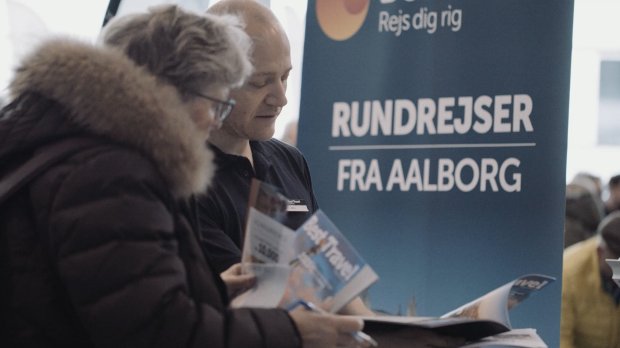 For many Danes, the cold and gray month of January equals making holiday plans and set your mind at sun and beach or cultural citybreak experiences. January 2023 was no exception – with a very high travel demand, which was clearly evident at Aalborg Airport's first edition of the travel fair, Aalborg Travel Festival, which was a resounding success with over 10,000 visitors.
In many ways, January 2023 turned out exactly as we remember it – an otherwise gray Danish month, which at the same time kicked off the ski season, offered full charter flights to the popular Canary Islands and kickstarted the wanderlust towards the summer season. All in all, there were 95,435 to and from Aalborg Airport in January 2023 – 61.2 percent more than in January 2022.
Increasing Travel Activity for Domestic and International Flights
In the winter's travel offer, more holiday destinations have been added to the program - with the start of both ski trips to Sälen/Trysil and Salzburg as well as trips to Lapland. It particularly gave a boost to charter traffic in January 2023, where there were 90 percent more travelers than in the same month last year.
- When we look at the traffic in January, the result is much as we expected. Domestic traffic continues at the same excellent level, and foreign traffic is well on its way, but still lacks more capacity, which will be fulfilled with the summer program at the end of March. In addition, we had the highest number of charter travelers for the month of January since 2017, and that gives a very good indication of where we stand right now. The desire to travel and travel demand out into the world is increasing. We hear time and time again from the charter agencies, among others, that sales are exceeding expectations, says CEO Niels Hemmingsen.
Overwhelming Support for the First Edition of Aalborg Travel Festival
Sunday the 29th of January, the travel fair 'Aalborg Travel Festival 2023' took place, with over 10,000 visitors during the day. The travel festival exceeded all expectations and was a great success, where the many visitors could experience exciting travel lectures and buy a trip or two. At the same time, there was great satisfaction from the various exhibitors who, among other things, were able to focus on the summer's journeys and route news.
- We are blown away by the great support we have experienced for the Aalborg Travel Festival. It was a fast-paced day, and we have received a lot of positive feedback from visitors and exhibitors who are looking forward to next year's Aalborg Travel Festival. Already now, you can expect a 2024 edition, where an expansion of the set up for the day is in the making, concludes Niels Hemmingsen.