Historic Non-stop Route from Aalborg to New York Inaugurated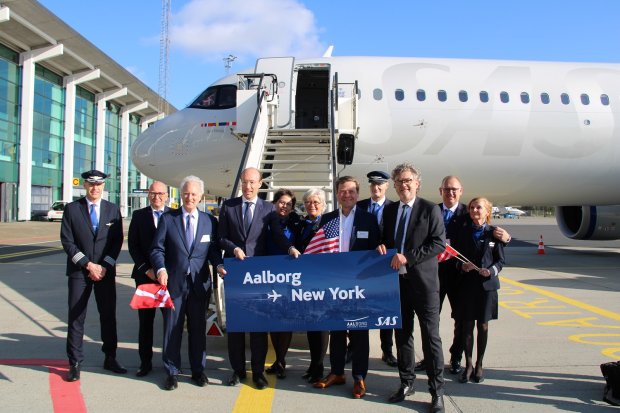 Thursday the 27th of April was a historic day at Aalborg Airport, when the first direct non-stop flight set off across the Atlantic towards the city of New York. The day was celebrated with a reception for over 100 participants from the industry and corporates, followed by a traditional route inauguration with American specialties for the first travelers as well as a red ribbon cutting and water salute.
A major and historic milestone was achieved on Thursday the 27th of April at Aalborg Airport - with the inauguration of SAS' direct non-stop route to New York and thus the first overseas flight connection from Jutland. In addition to the traditional route inauguration in the gate, the day was celebrated with a reception, which featured speeches from Anko van der Werff, President & CEO of SAS, Alan Leventhal, the US ambassador to the kingdom of Denmark and CEO Niels Hemmingsen.
- The first direct overseas route from Jutland is now a reality, where the interest has been enormous since the news came out just 4 months ago. With New York on the route map, Aalborg Airport's position as an international airport is greatly strengthened. We therefore have a unique opportunity to open up North Jutland in particular to the American tourists, with whom we continuously work in collaboration with tour operators, VisitDenmark and Destination Nord as well as SAS, who thank for their faith in the project and huge commitment to get the route in the air, says CEO Niels Hemmingsen.
SAS' Airbus A321-LR set the Perfect Atmosphere for the Day
The American atmosphere was turned up for the reception – with a red carpet, the 52 state flags, stars & stripes in the ceiling and matching food and drink. Probably the most important participant for the opening reception was SAS' Airbus A321-LR, which for the first time, and well before the first departure, landed at Aalborg Airport.
- It is really great to see our first direct flight between Aalborg and New York taking off today. Denmark is an important market for us, and we are incredibly happy to now offer even more connections from Denmark. We are also very happy to meet the increasing demand for travel to and from cities other than our main hubs. That's why we offer more connections to the world from Scandinavia - and bring the rest of the world to Scandinavia, says Anko van der Werff, President & CEO of SAS
All guests to the reception could experience the plane from the inside before it had to be prepared for the many expectant travelers, who could enjoy both sliders and New York Lager before boarding. With a few words from Anko van der Werff in the gate, the red ribbon was cut and the travelers could get on board, after which the obligatory water salute made the plane completely ready for its first take off from Aalborg Airport to New York.