Air France-KLM Names Aalborg Airport as Having Europe's Best Customer Experience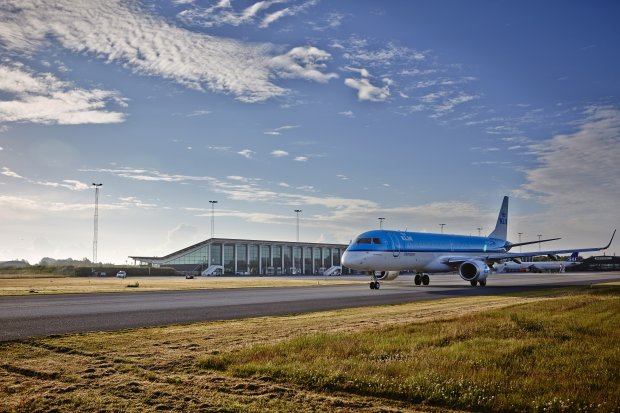 In 2021, Aalborg Airport was recognized as having the best airport lounge worldwide within the entire Air France-KLM network. In a new passenger survey for 2023, conducted by KLM, Aalborg Airport is once again acknowledged, this time for the overall customer experience at the airport compared to other European airports served by Air France-KLM.
Customer Experience in Focus
The new passenger survey and recognition of Aalborg Airport, on behalf of Air France-KLM and their customers, strengthen the motivation to prioritize excellent and personalized customer service and create even more positive customer experiences at Aalborg Airport. This contributes value to travelers, the airport and Air France-KLM.
"Good customer experiences are crucial for Air France-KLM. Therefore, we also measure the overall customer experience at the airports we collaborate with. In practise, we ask our passengers through surveys. We know how important it is for our customers that the customer experience is excellent before departure and upon arrival. Aalborg Airport consistently delivers at an internationally high level, and we always have a fantastic collaboration with them," says Anita Wagner Feddersen, Sales Director at Air France-KLM.
Measured on an International Scale
In October, Aalborg Airport was named Denmark's Best Airport 2023 at the Danish Travel Awards. This award has been granted to Aalborg Airport three times in a row. The emphasis was also on the positive customer experience at the airport, giving Aalborg Airport a unique position as a sought-after airport, both nationally and internationally.
"We set incredibly high standards for ourselves when it comes to the customer experience, specifically the personal customer service between our employees and passengers. Therefore, the recognition from KLM is significant, showing us that our daily work is making a difference. We want to be measured on an international scale, and that's why the overall collaboration with KLM is crucial," says Kim Bermann, VP & COO at Aalborg Airport.
The collaboration between Aalborg Airport and KLM started in 2011, and the route between Aalborg and Amsterdam is used by approximately 200,000 travelers annually. A new development for 2023 and 2024 is that KLM has decided to add more flights in the winter season, resulting in four daily departures to Amsterdam. The Aalborg-Amsterdam route is heavily utilized by both business and leisure customers, with most using the route as a hub to travel onwards to another destination in Europe, the USA, South America, or Asia.