Direct Non-stop Route to Nice from Aalborg Airport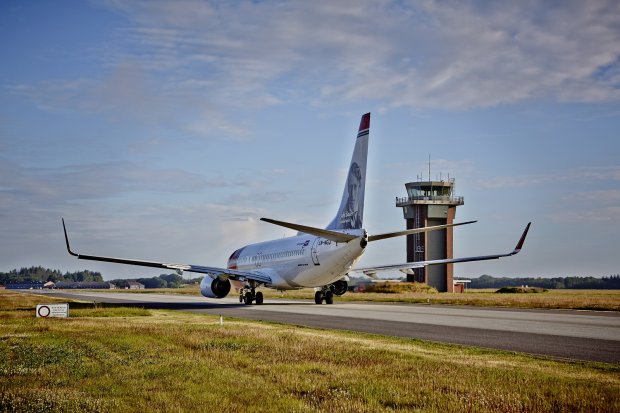 Aalborg Airport will now become the only airport in Jutland with a direct non-stop route to Southern France, when Norwegian, in the summer of 2024, starts flying directly to the French Riviera and the popular southern French city, Nice. Consequently, there is ample opportunity to prioritize sun, beach, and French delicacies when planning the next summer vacation from Aalborg.
Southern France is added to the route map from Aalborg Airport, with a new direct non-stop route to Nice with Norwegian. Starting from June 2024, Norwegian will fly twice a week to the vibrant French Riviera. Jutland travelers can look forward to another travel option to the sunny Mediterranean, complementing the many vacation possibilities to the Greek islands and Spanish coasts.
"Once again, Norwegian has a major route announcement from Aalborg Airport, where Nice as a destination fits perfectly into the demand for holiday routes we have seen in recent years. At the same time, it opens up France as a holiday destination with flights from Aalborg, and especially the entire French Riviera, offering a myriad of vacation opportunities and attracting many thousands of Danes every year," says CCO Martin Svendsen and continues.
"Norwegian already has a strong program to Spain, where new routes to Barcelona and Alicante were well-received during the summer. There is, therefore, no doubt that Nice will receive the same positive reception, with the two weekly departures providing an opportunity for an extended weekend on the French Riviera or a full week of cultural sun vacation".
Over 60 weekly departures with Norwegian from Aalborg Airport
Norwegian's first direct departure from Aalborg to Nice is on Monday, June 3, 2024, and then it will fly on Mondays and Fridays until October 25.
"We are very excited to launch another route from Aalborg Airport, this time to Nice in the heart of the French Riviera. Nice is among the Danes' preferred destinations, both as a starting point for summer vacations and as a weekend destination. The route between Aalborg and Nice is the only direct route from Western Denmark to Southern France, and we are delighted to offer this to passengers," says Magnus Thome Maursund, Chief Commercial Officer at Norwegian.
With another expansion of Norwegian's direct travel options from Aalborg Airport, there will be over 60 Norwegian departures per week in some periods, covering six different destinations. In addition to the new route to Nice and the daily flights to and from Copenhagen, Norwegian will set course directly for the Spanish coasts and well-known destinations like Mallorca, Malaga, Barcelona, and Alicante, with a significant expansion in the summer of 2024, including an extra weekly departure from May to October.
Nice – the Queen of the Riviera
Nice is a beautiful city located on the French Riviera in southeastern France. The city is known for its pleasant Mediterranean climate, spectacular beaches, and impressive architecture. Nice has a rich history, and its charm blends the old and the modern.
The famous promenade along the Mediterranean, Promenade des Anglais, is a popular spot for relaxation and recreation. The city's old town, Vieux Nice, is known for its narrow streets, colorful facades, and local markets, where you can experience the authentic southern French atmosphere.