QAIA Welcomes More than Seven Million Passengers in 2015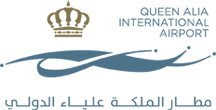 QAIA Welcomes exceeds Seven Million Passengers for the second consecutive year
Amman, January 2016 – According to figures released by Airport International Group (AIG) – the Jordanian company responsible for the rehabilitation, expansion and operation of Queen Alia International Airport (QAIA) – the Airport welcomed 7,095,685 passengers in 2015, marking a marginal increase in passenger traffic (PAX) of 0.1% in comparison to the previous year. In turn, QAIA's cargo traffic figures rose significantly in 2015, experiencing an overall growth of 7.3% and totaling 100,691 tons, whereas aircraft movement (ACM) figures registered a year-to-date (YTD) fall of 1.9%, settling at 71,753.
Bringing the year to a positive conclusion, PAX for the month of December 2015 surpassed half a million for the first time in the Airport's history. QAIA welcomed 533,051 PAX in December, signaling a 7.1% increase in comparison to the 497,824 PAX received in the same period in 2014. During December, QAIA also achieved its largest cargo figures ever registered in a single month, handling 9,764 tons of cargo. Meanwhile, QAIA registered 5,813 ACM as opposed to 5,439 ACM in 2014, bringing about a year-on-year increase of 6.9%.
The first half of 2015 recorded year-on-year declines in PAX and ACM statistics, attributed primarily to route cancellations and turmoil in neighboring countries; however, QAIA rallied in July, registering universal improvement including a 29.6% rise in PAX compared to the same period in 2014. In the second half of 2015, QAIA enjoyed four record-breaking months, registering its highest-ever PAX for the months of July, August, September and December. Moreover, following consistent YTD growth in cargo traffic throughout 2015, QAIA closed the year with a notable 7.3% rise against 2014 figures.
"Ending another milestone year on a high note, in the final month of 2015, QAIA registered remarkable results across the board, as illustrated by its unprecedented reception of more than 500,000 PAX in December, its record-breaking cargo figures, and year-on-year increases in ACM," said Airport International Group CEO, Kjeld Binger. "Despite regional challenges and circumstances, three new airlines joined QAIA's network last year, bolstering Jordan's standing as a secure and stable country, as well as the Airport's position as a transit hub. We look forward to persisting in our efforts to increase the number of passengers and aircraft passing through the Kingdom's prime gateway to the world, enabling both QAIA and Jordan to realize their full potential."