First JetsGo Flight Takes Off From Inverness Airport.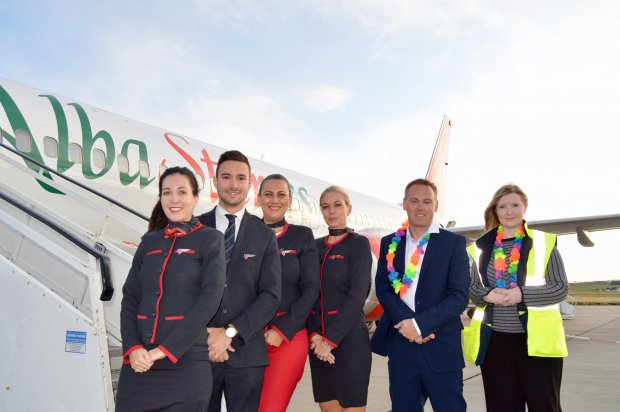 Saturday saw travel company, JetsGo, launch their first flight from Inverness Airport to Palma, Majorca. 2019 is the first year the travel company have offered their charter service to the Balearic Island from the Highland capital. JetsGo offered customers two departure dates, which coincided with Highland October Holidays, both of which sold out. Over the two week period a total of 378 people will be making their way to the warmer climates from their local airport.
To celebrate the first JetsGo charter passengers enjoyed a beach party departure with a fun photobooth, leis and refreshments as they waited to board.
September this year saw the announcement that the partnership will continue for 2020, with JetsGo doubling the offering.
Inverness Airport General Manager, Graeme Bell, commented his delight saying "There has been considerable demand from Highland holidaymakers for the Majorca service in 2019 and we are delighted that JetsGo have already committed to an extended service for 2020. For many people, October is the ideal time to visit Majorca. The weather is usually warm and sunny and the island is a little less busy than it can be during the height of summer."
Daniel Reilly, JetsGo Director, also commented saying, "We have been very pleased with how popular our holidays have proven to be from Inverness Airport. While there's many people out there who prefer to build their own holidays these days, it's clear that package holidays still have their place in the holiday market."
"As well as our expanded programme to Majorca for 2020, we are also looking at other opportunities from Inverness and look forward to offering a wider choice of destinations in the near future."
Inverness Airport's partnership with JetsGo helps them to achieve their aspiration to be a gateway to the World. Packages are now available for October 2020, so if you missed out this year, be sure to get ahead and book on for next year.