First Long-Haul Flight from SAW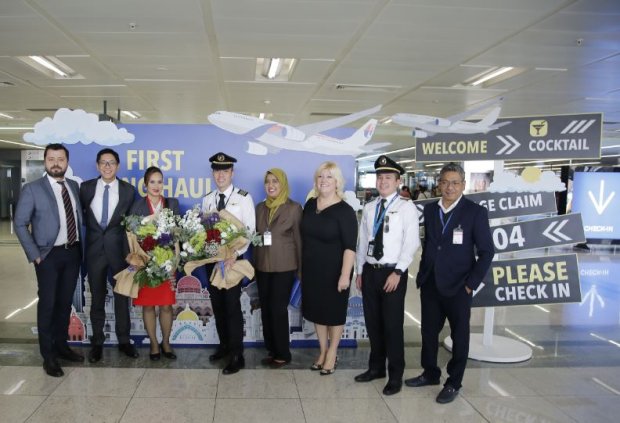 Malaysia Airlines ("MAS"), the national carrier of Malaysia today started it's charter flights to Istanbul Sabiha Gökçen International Airport (SAW) from Kuala Lumpur International Airport ("KUL"). MAS, a member of the One World alliance will serve this route between 16 November 2019 till January 2020. This will be the 2nd longest MAS flight to Europe after London route. This marks a historic return of MAS to the Turkish market after their last flight to Istanbul back in August 2014.
The inaugural flight was an important milestone for SAW, being the first long haul flight operated from SAW, the second busiest airport in Turkey. This was also a milestone for both of the airports the aircraft took off and landed since the both sides are part of Malaysia Airports. "
A special water salute was carried out as the Airbus A330-200 touched down, followed by a warm welcoming ceremony held for the given flight where all the passengers on-board and cabin crew were served with traditional Turkish delights upon the arrival. The pilot in command and the cabin crew were also given flowers by the SAW officials. Thereafter, a cocktail took place at the arrival level of the SAW terminal, hosted the passengers of this significantly meaningful inaugural flight, the cabin crew and the officials of the parties related.
Gerald Ong; Aviation Marketing Director and, Göksu Güney; Operation Director of SAW, were present to represent the Sabiha Gökçen International Airport. In addition to SAW representatives, other guest attendees includes Mrs. Esra Degirmenci; Head of Global Brand & Tourism, Mrs. Natali Avcı; Head of Operation and Mr. Cihan Celik; Manager of the Far East from Dorak Holding, the representative agency of MAS. Mr. Khirrol Mohamad, the Regional Head of MAS; represented MAS to witness this historical moment.
The cocktail carried on with the speech given by Gerald Ong where he stated; "following this charter flight I wish to see MAS operating more to SAW considering that there's more than 100k Malaysian visiting Turkey last year". He also sees further opportunities for SAW in the other long haul destinations, mainly the Far East markets over the next 2-3 years.