LARGE AIRPORT OF THE YEAR: ISTANBUL SABİHA GÖKÇEN INTERNATIONAL AIRPORT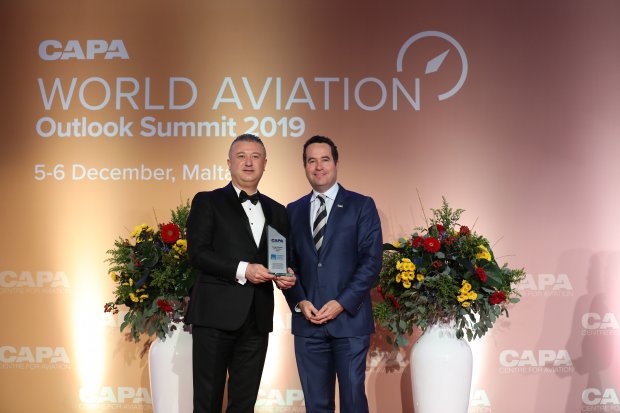 Awarded to the airport with over 30 million annual passengers that has been the biggest standout strategically, Istanbul Sabiha Gökçen Airport has established itself as a leader and done the most to advance the progress of the aviation industry.
The airport was selected for sustaining passenger traffic, following a decade of very high growth, in the face of the opening of a brand new, capacity-unconstrained airport across the city, increasing passenger capacity in 2018 and air movements in 2019, and holding cargo capacity at its second-highest level in six years.
Being sufficiently bold as to plan for a future that includes a second runway and a new terminal, plus a dedicated cargo apron, despite the threat from the new Istanbul Airport, all the while continuing to handle existing traffic as the world's third busiest single-runway airport.
CAPA Chairman Emeritus Peter Harbison said: "Since its inception, Istanbul Sabiha Gökçen Airport has lived under the shadow of its larger neighbour across the Bosporus. But over the decade between 2008-2017 it grew passenger numbers at a remarkable average of 25% annually, projecting it into the category of a "large airport". Primarily an LCC airport and the main hub for Pegasus Airlines, this growth rate inevitably
placed enormous pressures on resources, requiring creativity of management and the flexibility to accommodate the new levels."
"We are deeply honoured to receive this award from CAPA. It's a recognition of our remarkable growth story." said Ersel Göral, CEO, Istanbul Sabiha Gökçen International Airport (SAW).
"The significance of this award also coincides with the 10th year since the opening of SAW's new terminal, where traffic has grown more than six times, serving over 200 million passengers since then," he added.
Today, SAW is Turkey's second busiest airport and Europe's 12th busiest airport, handling over 35 million passengers per annum. Located 40km away from the city centre, SAW is well positioned as the city airport of Istanbul, following the recent opening of the new Istanbul Airport as well as the closure of Atatürk International Airport.
Its location and direct accessibility via metro next year, together with its ongoing developments (second runway, new terminal) SAW is poised to play a significant role in Turkey's aviation landscape, especially in supporting Istanbul to be one of the world's mega aviation hubs in the coming years.