Office space boom in Lodz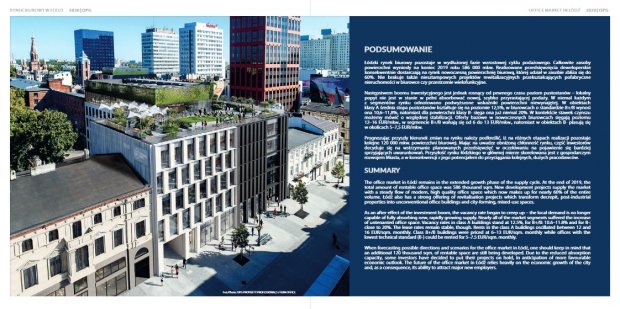 New report about office space to let in Lodz city.
The BPO office sector, i.e. business service centres in Lodz, is an important segment of the economy, which in recent years has shown significant dynamics and increased to 586 000 m2, which is about 10% of the domestic market. The City of Lodz Office presented a report on the situation on the real estate market and office investments in our city, developed by OPG Opal Property Professional in cooperation with Lodz University.
Due to the continued, increased investment activity in recent years, the office market in Lodz is seeing a steady growth of supply. Development projects completed in 2019 introduced 59 000 m2 of new office space, thus increasing the overall stock to 586 000 m2. Major development projects include the first building of Brama Miasta ("The Gate of the City") with 27 800 m2, the Imagine complex (14 800 m2) and the M1 office building, part of the Monopolis complex (7 000 m2). Buildings commissioned last year are located mainly in the city centre. However, the vacancy rate grew noticeably at this time and by the end of 2019 amounted to 12.3% for the whole of Lodz.