Muscat International Airport welcomes GOAir to it's growing Family!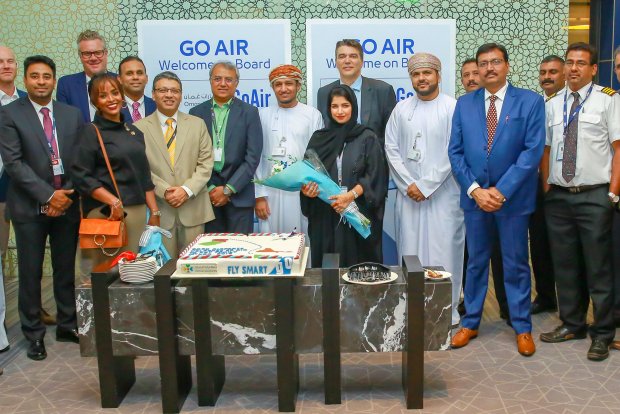 Muscat International Airport welcomes new low cost airline GoAir with three weekly flights between Kannur International Airport (CNN) and Muscat International Airport (MCT), connecting the two cities with flights operating every Wednesday, Friday and Sunday from Muscat to Kannur and every Tuesday, Thursday and Saturday from Kannur to Muscat.
GoAir's inaugural flight from Kannur to MCT was received with much fanfare, as the Indian subcontinent remains one of the most popular destinations for travelers departing from MCT. In addition, Kannur itself is a popular leisure and business destination within the state of Kerala.
Mr. Jeh Wadia, Managing Director, GoAir, said: "This is a historic moment for GoAir as we enter the Middle East region with our maiden flight taking off from Kannur to Muscat, thereby strengthening the historically strong India – Oman relationship. GoAir is India's fastest growing airline and Muscat is our 3rd international destination after Phuket and Male, and 27th destination sequentially speaking. GoAir is delighted to work with Muscat International Airport. I welcome aboard passengers from Kannur and Muscat on three weekly direct flight services at attractive fares. Fly smart, fly GoAir."
Oman Airports Chief Commercial Officer Sheikh Samer Al Nabhani stated; "We are indeed very pleased to welcome Go Air to the Oman Airports Family. The Indian Subcontinent is a very important market to Oman and we are looking forward to more business opportunities in the coming future. We thank all stakeholders for all the efforts and support to make this route happen."
GoAir is India's fastest growing airline and it is committed to providing travelers value for their money through the highest standards of customer service delivery and affordable air fares. With its fleet of 49 Airbus A320 and Airbus A320neo aircraft, the airline offers more than 230 daily flights and approximately 1,600 weekly flights across 28 destinations – 24 domestic and 4 international. The inaugural GoAir flight from Kannur touched down on Friday March 1st at 00:05 local time (LT).