Pittsburgh International Airport Celebrates Inaugural Nonstop Service to Montreal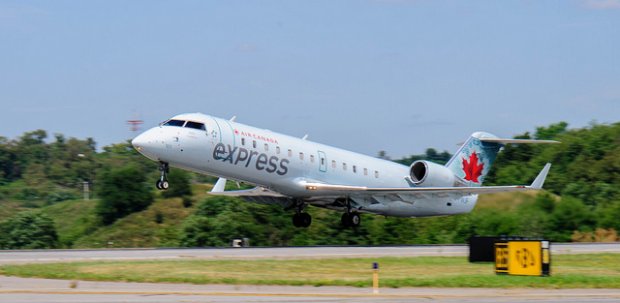 PITTSBURGH – This week marks the beginning of the busy summer travel season at Pittsburgh International Airport with new daily nonstop flights to Montreal on Air Canada taking off on Thursday, May 17.
"We are excited about this partnership with Air Canada and about the opportunities that this provides for our businesses, as well as our leisure travelers," said Allegheny County Executive Rich Fitzgerald. "These connections to important markets continue to build our region's economic growth and we are appreciative of the relationship."
Montreal is an important business and leisure market for Pittsburgh. Companies including CGI, Kraft-Heinz, Bombardier and Alcoa have operations there, and the city's rich culture, history and European vibe attract more than 10 million visitors each year. The last time nonstop service was offered from Pittsburgh was November 2004.
"Adding international destinations like Montreal, as well as larger aircraft and additional frequencies like what we are seeing on other carriers is important for business and leisure travelers alike, and continues to advance the airport and region," Allegheny County Airport Authority CEO Christina Cassotis said. "We look forward to a busy summer with more new flights starting as we continue to match the region's demand with new air service."
The Montreal flight is timed to conveniently connect to several long-haul routes operated by Air Canada to Europe and Asia. In 2018, Air Canada will account for nearly 40 percent of all international nonstop seats available from Pittsburgh International Airport. The airline also offers up to four daily flights between Pittsburgh and Toronto Pearson International Airport.
"Air Canada continues to strategically add new services to meet demand, and we are pleased to launch nonstop service between Pittsburgh and Montreal linking two cities with a strong business community and several major company headquarters," said Lisa Pierce, Senior Director USA Sales & Market Development, Air Canada. "Our flights conveniently connect under one roof at our global Montreal hub providing seamless connections to and from our extensive domestic network and beyond to over 45 destinations including Lyon, Marseille, Nice (France), Algiers (Algeria) and Casablanca (Morocco)."
International traffic was up more than 36 percent in March and 33 percent year-to-date, with more than 223,000 travelers flying abroad. International traffic is expected to continue growing throughout the summer.