Domestic Flights on Rise While Overseas Routes Lag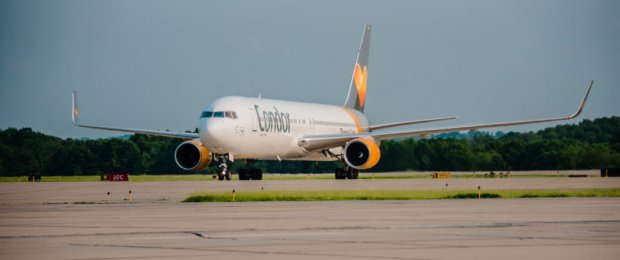 As domestic carriers continue to ramp up service for the summer as pandemic restrictions ease, some international service may be slower to return to the United States.
Condor Airlines said it is suspending all U.S. service this summer with the exception of Seattle. The stoppage means that nonstop summer service between Pittsburgh and Frankfurt, which started in 2017, will not fly in 2020 due to travel restrictions and demand challenges stemming from the COVID-19 pandemic.
Prior to the pandemic, the flight, which saw average load factors exceed 85 and 90 percent, had been scheduled to operate twice weekly from May 22 through Sept. 21. The decision underscores the challenges the pandemic has brought to international travel even as domestic service begins to rebound.
American Airlines, for example, said it planned to boost July flights by 74 percent from June levels, signaling that U.S. travelers are returning more quickly than expected, according to Bloomberg.
"We're seeing a slow but steady rise in domestic demand. After a careful review of data, we've built a July schedule to match," said Vasu Raja, American's senior vice president of network strategy. "Our July schedule includes the smallest year-over-year capacity reduction since March."
The carrier's July schedule is equivalent to 40 percent of the July 2019 schedule; June was at 30 percent compared to last year. At the same time, international demand continues to be diminished, the airline said.
Delta CEO Ed Bastian said last week that the company plans to operate twice as many domestic flights in July as it did in May. Most will be tied to the carrier's Atlanta hub, Bloomberg also reported.
"As we move into the peak season for air travel, airlines are starting to add domestic capacity back into the system," said Bill Swelbar, chief industry strategist for Delta Airport Consultants. "The airlines are adding capacity back into leisure destinations, airports that serve national parks and other states with ample outdoor activities."
The international marketplace tells a different story, Swelbar said. While carriers are putting at least 50 percent of their 2019 domestic capacity back to work next month, they will likely only be operating only 20 percent of their international capacity. United and Delta have each identified opportunities in the Asia-Pacific region.
"Adding capacity on transatlantic routes has been slow and most of the increases involve alliance partner gateways," Swelbar said.
TSA screenings up
TSA reported that it screened 441,255 passengers nationally on June 7, the highest number since agents screened 454,516 travelers on March 22.
That's still significantly down from the 2.67 million travelers passing through TSA checkpoints on June 7, 2019, but still an improvement.
Locally, PIT is seeing similar signs of life in air service, with nine routes expected to launch or return this month. Those additions, via several different airlines, connect PIT to destinations from Denver to Miami to Newark.
Southwest added additional weekly frequencies to Tampa and Chicago-Midway in June as well as an additional daily frequency to Atlanta for the majority of June and July.
As travel restrictions ease, PIT officials anticipate British Airways will restart nonstop service to London Heathrow this summer.
Nonstop service to Germany remains an important goal, given the numerous business and heritage connections that tie the country to Pittsburgh. The most recent example came last week when Volkswagen announced a $2.6 billion investment in Pittsburgh-based Argo AI, an autonomous vehicle technology firm.
"Condor has been a great partner with us in the Pittsburgh market," said Bryan Dietz, vice president of Air Service Development at PIT. "Obviously the pandemic has brought challenges to plans for this summer's service. Nonstop service to Germany remains a key target for our market and we look forward to service returning next year."
Condor is also restarting service to Toronto in July and is scheduled to restart service to Las Vegas in October. Similar to domestic carriers, which received monetary support through the U.S. Cares Act, the German government guaranteed a loan to Condor through that country's Corona Shield Programme. Airline officials said the loan secures the airline's operations into the future.