As It Gets Colder, Are Airports Getting Busier?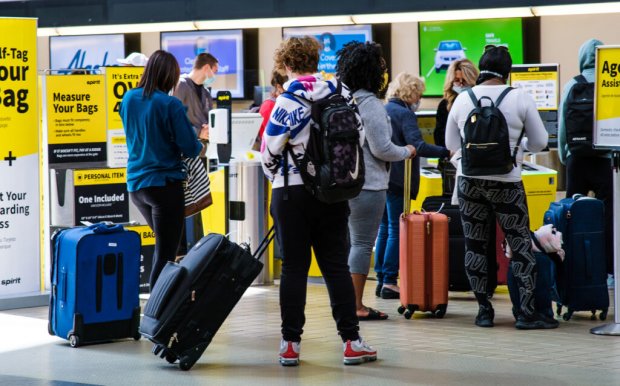 Travelers wait in line at the Spirit Airlines ticketing counter at Pittsburgh International Airport in October 2020. (Photo by Beth Hollerich)
Airports are starting to reach new heights–at least, heights they haven't seen since the start of the pandemic.
On Oct. 18, the Transportation Security Administration screened more than 1 million passengers at airports nationwide for the first time since March 17. Additionally, the TSA saw its busiest travel week since the start of the pandemic, screening 6.1 million passengers at U.S. airports from Oct. 12-18.
That trend includes Pittsburgh International Airport, which recorded its highest single travel day since mid-March earlier this month, with more than 7,000 departing travelers on Oct. 8. PIT also saw its busiest travel week Oct. 12-18 as the TSA screened 36,576 total passengers.
Nationally, daily passenger totals are down more than 60 percent compared to this time last year.
Does the gradual rise in travelers come as a surprise for industry experts?
Yes and no, said Seattle-based aviation consultant Carrie Kelly.
"For airlines, predicting what fall travel was going to be like was like looking into a crystal ball and it still kind of is," Kelly said.
"Airlines are basically working on schedules one month out, where historically their schedules were planned six months to a year in advance."
In this fall travel season, major carriers like American Airlines, Delta, United and Southwest have made significant reductions to their domestic network schedules as they attempted to predict travel demand for the coming weeks.
October Domestic Airline Schedules, Year-Over-Year Comparison
American Airlines cut more than 88,000 flights
Delta reduced its October schedule by more than 62,000 flights
United slashed more than 67,000 flights
Southwest's schedule dropped more than 52,000 flights
As a result of the pandemic, not only has travel demand dropped, it's also changing.
"Usually there isn't very much leisure travel in the fall, but now people are able to work remotely and school is being held virtually," Kelly said. "People are now doing business and leisure vacations where they can do an extended stay for a few weeks to travel for leisure and work at the same time."
With that, airlines continue to adjust to the flux in passenger demand by adding more leisure destinations. Targeted markets include warm-weather destinations like Florida and California, as well as popular spots for sports and recreational activities like national parks and the mountain states for adventure vacations.
Along with adding more appealing routes, airlines continue to work on rebuilding passenger confidence in air travel.
This month, United Airlines launched a COVID-19 testing program for passengers traveling to Hawaii from San Francisco International Airport. United was the first U.S. airline to announce a program for testing travelers.
Subsequently, Alaska Airlines and American Airlines have announced similar plans to offer COVID-19 tests for travelers on flights to Hawaii and other international destinations.
United Airlines is also endorsing a study conducted by the Department of Defense on the Chicago-based carrier's Boeing 767 and 777 aircraft. Based on the study, the airline is saying the risk of contracting COVID-19 in-flight is "virtually non-existent."
Delta has promoted the study as well, noting that air on its flights is "completely refreshed" every two to six minutes with either fresh outside air or air that is recirculated by HEPA (high-efficiency particulate air) filters.
What's next?
Industry professionals are anticipating "decent" travel demand for the holiday travel season, Kelly said.
"We've seen the airlines add significant capacity over the holidays," she noted. "We're expecting the holidays to be strong, but on the other non-travel days we'll likely see the trends we've been seeing over the past few months."
After the holidays, airlines are likely to continue adjusting their strategies by adding more popular winter destinations near skiing and snowboarding resorts and warm-weather leisure spots.
This month, United announced eight new routes and added frequencies to 19 destinations in the Caribbean, Central America and Mexico to launch this winter. JetBlue Airlines also has plans to add a number of new routes to markets with "strengthened demand potential," like Florida and the Caribbean. Likewise, Southwest Airlines' flight schedule for November and December includes a few new options for travelers.
At PIT, carriers have resumed service to a number of popular leisure destinations, including nonstop service to Ft. Lauderdale on JetBlue and Tampa on Spirit Airlines. Next month, Southwest and American are scheduled to resume flights from PIT to Phoenix, and nonstops to Ft. Myers, Florida, on Southwest and Spirit are also expected to return.
"Airlines are being very nimble and as soon as they see rises in demand, it's easier for them to add capacity," Kelly said.