Southampton Airport chooses Hampshire and Isle of Wight Air Ambulance as its Charity of the Year 2017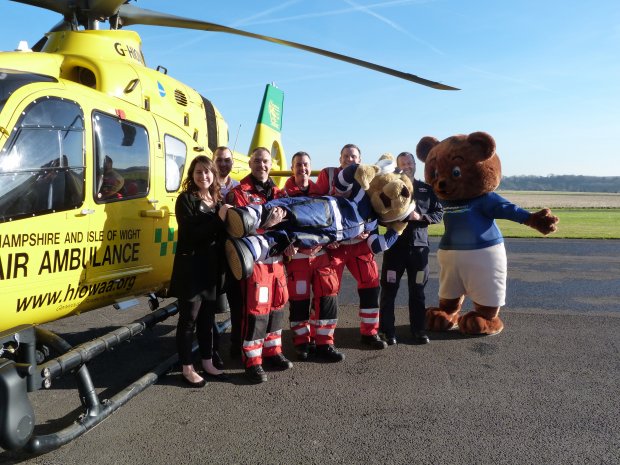 Southampton Airport has announced that it has chosen the established Southampton based charity, Hampshire and Isle of Wight Air Ambulance (HIOWAA) as its Charity of the Year for 2017.
The HIOWAA team will be given the unique opportunity to work alongside the airport to raise valuable funds for its cause throughout the upcoming year. The search for Southampton Airport's Charity of the Year began back in October and over 20 national and local charities applied to partner with the airport. This will be the second year that Southampton Airport has run a Charity of the Year partnership.
Hampshire and Isle of Wight Air Ambulance brings an advanced critical care team to people in Hampshire and the Isle of Wight when they need it most. Available both day and night, 365 days a year, the Air Ambulance critical care team are called out many times a day to attend to road traffic collisions, sporting accidents, collapses and many other incidents. A highly skilled crew of Doctors, Paramedics and Pilots can be at the scene of an incident within minutes, ready to deliver the same level of care that you would expect from a hospital emergency department. It currently costs in excess of £9,000 a day to maintain the lifesaving service, and it is only thanks to the generosity of the communities that they serve that they are able keep the Air Ambulance flying and saving lives.
Throughout 2017 Southampton Airport and the Hampshire and Isle of Wight Air Ambulance team will be running events in the terminal to raise money, as well as awareness, for the charity. HIOWAA will also partner with the airport for its annual Runway Run which sees up to 500 members of the public running 5k down the runway at 6am in the morning. This year the Runway Run will be held on the 25th June and registration will be open within the next few months. Last year over £8,000 was raised and this year both parties hope to raise at least £10,000 to mark the upcoming 10th anniversary of Hampshire and Isle of Wight Air Ambulance.
Dave Lees, Managing Director of Southampton Airport, says 'We are thrilled to finally announce that we have chosen Hampshire and Isle of Wight Air Ambulance as our Charity of the Year for 2017. It is a charity that is close to the hearts of many in our region. The work they do in the local community is outstanding and it is a great honour to be able to say that we are supporting such a worthwhile cause."
HIOWAA Corporate Fundraiser Ray Southam commented 'We were over the moon when we heard that we had been chosen as Charity of the Year by Southampton Airport. We already have plans in place for some exciting joint fundraising opportunities and we are all looking forward to dusting off our trainers for the annual Runway Run. We owe Southampton Airport a very big thank you'.
To stay up to date with fundraising events people are advised keep an eye on the Southampton Airport and HIOWAA social media channels.