Terminal 3 at Kotoka International Airport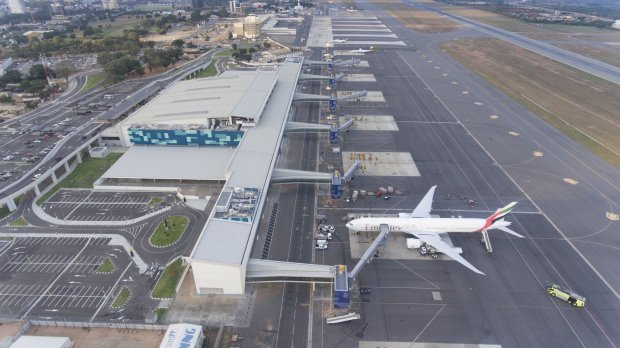 Ghana's iconic Terminal 3 (T3), at Kotoka International Airport (KIA) became operational in September 2018 after months of painstaking work.
The construction of a new Terminal at KIA dovetails into the company's vision of positioning Ghana as the Preferred Aviation Hub and Leader in Airport Business in West Africa. It also formed part of Ghana Airports Co. Ltd.'s capital investment programme that entailed the rehabilitation of other regional airports managed by the Company.
T3 is made of glass, steel, concrete and a distinctively modeled transparent roofing, comprising of 5 levels spreads across an area of 48,268m². It is expected to handle up to 5 million passengers a year, with an expansion potential of up to 6.5 million passengers. The Arrival Hall has a Baggage Claim Area with 4 wide-body 80 meter long Carousels, 24 Immigration Booths with 4 E-gates & a fully automated Baggage Handling System designed to handle 3,000/hr.
Departure Hall has a Pre-Screening Area, 56 Check-In Desks, 30 Passport Control with 4 E-gates, 8 Central Screening lanes, 22 Airline Ticketing Offices, 1 Business Lounge, Large Retail Area, 6 Boarding Gates & 1 Business lounge.