An exciting new chapter for Leeds Bradford Airport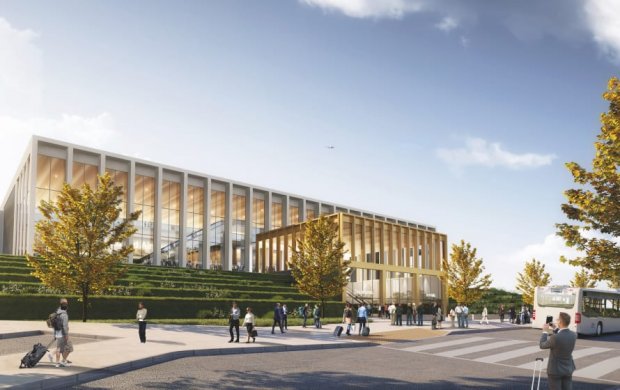 CEO of Leeds Bradford Airport, Hywel Rees, shares details of an exciting new chapter for LBA
A year ago, LBA outlined our plans to meet the airports projected growth with an extension to the existing terminal. After detailed modelling and analysis of these proposals, we decided we can improve on those proposals.
Parts of our existing terminal were built in 1965, which has constrained our efforts to make improvements in recent years, limiting our level of customer service, our energy efficiency and our passenger flows. We need to invest in LBA to ensure its long-term future and realise our ambition to profoundly change the perception and reality of the customer experience that we offer.
This is why we are making proposals to construct a new terminal building at a new location on the airfield. This upgrade will create a modern, sleek and efficient airport terminal for our airlines, our passengers and our business partners. It will allow us to reduce queues and delays, improve resilience and improve the overall customer experience.
Our aspiration to achieve passenger demand of 7 million by 2030 remains the same, as set out in our 'Route to 2030' master plan, published March 2017, but we will be able to offer a better service for our passengers and airlines.
We take our environmental commitments seriously and by 2023 this redevelopment will be integral to helping us be net zero carbon for the emissions we control. It will be one of the most environmentally efficient terminals in the UK, accredited as 'excellent' through the respected BREEAM standard.
We're also continuing our work with our partners in local government and transport to deliver more sustainable public transport connections to our airport and to actively participate in local offsetting schemes.
International connectivity is a key driver for our regional economy, and we cannot underestimate the vital role that Leeds Bradford Airport plays in the future prosperity of the Leeds City Region, Yorkshire and the North in terms of exports, investment, and productivity. It is a catalyst for inclusive economic growth and facilitates the transfer of innovation and ideas.
The airport currently contributes £475m to the local economy every year, employing around 2,500 people and supporting about 7,200 jobs. This upgrade has the potential to significantly increase the number of jobs linked to the airport to 12,000 creating a number of new opportunities for the local community and boosting the economy even further, signifying West Yorkshire's importance in the Northern Powerhouse.
We plan on submitting the application to Leeds City Council this spring, following extensive consultations with local residents, stakeholders and our industry partners. If approved, we anticipate breaking ground in late-2020, with the terminal open by early-2023.
The new terminal will dramatically improve our service for the millions who visit Yorkshire every year and the people of Yorkshire who travel to see customers, friends, family and colleagues around the world. It will also give the Leeds City Region a world-class airport.
I hope you will agree that this is a hugely exciting opportunity for the region, our passengers and our business partners. I would encourage you to view the project's dedicated webpage www.leedsbradfordairport.co.uk/transforming-LBA for more information and to keep updated with the project's progress.
Watch the "Upgrading Leeds Bradford Airport" Video:
https://www.youtube.com/watch?v=0Z63rWsf3Qg&feature=emb_logo:
If you have any comments or questions, please don't hesitate to contact the team:
Tom.Holdsworth@lba.co.uk