bmi 10th ANNIVERSAY LBA-EDI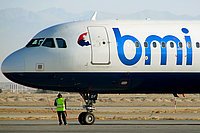 Route continues to be a great success for airport and carrier.
The route was established in 1999 to provide a key link for business and leisure passengers between the two business hubs. bmi Regional now offers twice daily services out of Leeds Bradford to Glasgow and Edinburgh. Flights are available from just £35 one way.

Peter Kenworthy, commercial director of bmi Regional said:
"Such a landmark really demonstrates how popular the route is for both business and leisure travellers and our recent improvements to the schedule show our commitment to the region. bmi Regional has now been the UK's most punctual airline for four years running and we strive to provide our customers with the best possible level of service and added benefits to ensure a smooth and rewarding journey for all of our customers."

Tony Hallwood Leeds Bradford International Airport's Commercial Director commented;
'' The airport team are pleased to celebrate the 10 year anniversary of the Edinburgh route with bmi. Offering both business and leisure passengers a high levels of service and low fares we look forward to continuing our long established relationship with the airline into the next decade.''

bmi now offers paperless boarding on all domestic routes, allowing customers to check in online up to 24 hours in advance, choose their seat and have their boarding pass delivered electronically to their mobile phone or PDA as an MMS, avoiding check in queues and saving valuable travel time. Unlike paperless boarding with other airlines, which requires passengers to print their electronic barcode upon arrival at the airport, bmi passengers are able to scan the barcode directly from their mobile phone or PDA.

bmi Regional is an all jet fleet with business and economy fares and service, lounge facilities for business passengers and Diamond Club members and e-ticket and online check-in. bmi's regional, short haul and European departures now do not include fuel surcharges as part of the airline's commitment to offering the best value for money for travellers.