Hermes Airports reaches 11 million passengers for the first time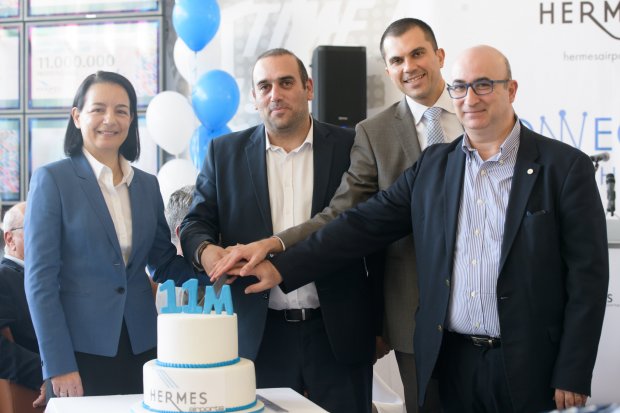 A new milestone achieved by Cyprus' airport operator at the close of the year.
Hermes has started the decade on a high, having reached 11.3 million passengers across its airports in December 2019. This milestone, which was celebrated across both Pafos and Larnaka Airports in December, comes just two years after Cyprus' airport operator reached its last record of 10 million passengers.
These figures represent the latest achievement in a remarkable trajectory for Hermes since it assumed management and control of Larnaka and Pafos Airports in 2006, when passenger traffic stood at 4.9m and 1.8m, respectively. Since then, the company has been relentless in its drive to place the island's airports at the heart of its economy and society, starting with the delivery of new, state-of-the art terminals inaugurated in November 2008 (Pafos) and November 2009 (Larnaka), with a total investment of €640 million. Today, Pafos and Larnaka Airports offer superior facilities in combination with advanced technologies that are constantly being updated, with passenger convenience as its guiding principle. In total, 70 airlines that include Jet2, easyJet, TUI and Ryanair, that retains a base at Pafos Airport, operate to 120 destinations in 40 countries.
The occasion was celebrated in a series of special events across both airports; in Pafos, which reached 3 million passengers for the first time, Hermes identified the 3,000,000th passenger, who was travelling to Berlin Tegel with easyJet, and offered them gifts that included travel and Duty Free vouchers, as well as a value card to spend in the airport's restaurants and bars. A luncheon was later held for airport officials and local tourism stakeholders. At Larnaka Airport, another luncheon was held to celebrate the goal reached by both airports. Present at the events were national and local government representatives & officials, tourism industry stakeholders, airline representatives, as well as representatives of various companies and services based at Larnaka and Pafos airports.
Speaking at the Larnaka event, Cyprus' Minister of Transport, Communications and Works, Yiannis Karousos, noted that Cyprus' airports "are amongst the most important and critical infrastructures in the country (and) have a tangible effect on all sectors of the economy and society of the island". The Minister also congratulated "the staff and management of Hermes Airports, as well as related partners involved in the seamless and secure operations of the airport".
Hermes Airports' CEO, Eleni Kaloyirou, added: "we do not stop here; instead, we look to the future and continue to work towards it with the same ambition and zeal". Ms. Kaloyirou added "…we will continue to work methodically, and focused on achieving even greater things".