Punta Cana International Airport sets in motion Health & Safety protocols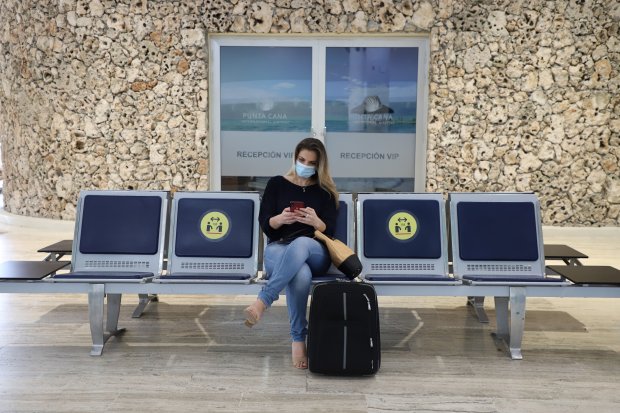 Punta Cana International Airport announced health and safety measures that have been implemented within its facilities to prevent and control COVID-19, once operations restart on July 1st, following the announcement to open international airports made by the government of the Dominican Republic.
Operational measures include installation of thermographic sensors at arrival, departure and passenger transit terminals; a monitoring station with trained personnel from the Ministry of Health and a primary health care station in the check-in area.
A dedicated Covid-19 isolation area for initial inspection by the Ministry of Health has been set up; properly equipped ambulances to provide quick and effective support in the event of any suspected case; protocol of action for possible cases, both for aircrafts and terminal areas, following the guidelines from the Ministry of Health and other local and international organizations.
Access to the check-in area of the airport will be limited exclusively to ticketed passengers. Also, the number of automated kiosks in the check-in area was increased to reduce queues. Additionally, boarding pass readers for direct scanning by the passengers have been installed at the gates and security points to diminish touch points in the boarding process.
The passenger verification process will be done by body scanners and metal detector walk-throughs to minimize manual verification. Also, dividers were placed at checkpoints and counters between passengers and service personnel in Immigration, check-in, airport security checkpoints, boarding gate counters and tour operators' desks.
Disinfection, deep cleaning and hygiene measures have been increased in all areas of the airport and on operational equipment. The frequency in the use of cleaning machines has also increased and broad-spectrum chemicals for disinfection are being utilized.
Regarding physical distancing measures, the following actions have been implemented: floor templates establishing safe distancing amongst passengers have been placed in transit room areas, checkpoints, Immigration and Customs; additional signage encouraging hygiene and safe preventive practices have been placed at information desks in all areas; maximum passenger capacity in airport transport vehicles has been decreased between 40% and 50%. Boarding gates will be assigned taking into account the number of passengers in lounges and all security barriers have been expanded to allow for physical distancing of passengers.
All these measures are in addition to the obligatory use of face masks for service personnel and passengers and widespread availability of clinical grade antiseptic gel dispensers placed strategically throughout the terminals. A continuous preventive communication campaign will be held in the terminal and passenger access areas.
Measures with collaborators
Employee health monitoring will be increased through temperature checks upon arrival to the work area; health control in the medical office; mandatory use of masks and gloves; more frequent cleaning and disinfection of work vehicles and personnel transportation; distancing regulations in common areas and communication campaign with continuous conversation about active care through the company's internal communication area. "At Punta Cana International Airport we are committed to guaranteeing and keeping operations active in a safe manner, complying with all local and international norms and standards through the recommendations of the competent authorities", said Frank Elías Rainieri, director of the Dominican Republic's busiest airport.
About Punta Cana International Airport
It is the busiest airport in the Dominican Republic and the one with the largest international connectivity in the Caribbean, linking 64 cities and 26 countries around the world, mobilizing eight million passengers a year. It has two 11,000-feet runways, 27 boarding gates, 30 aircraft parking spaces and three VIP lounges. The Punta Cana International Airport is one of the 10 main airports in Latin America and the most important in the insular Caribbean.
For more information, visit https://www.puntacanainternationalairport.com/