Punta Cana International Airport quickens immigration process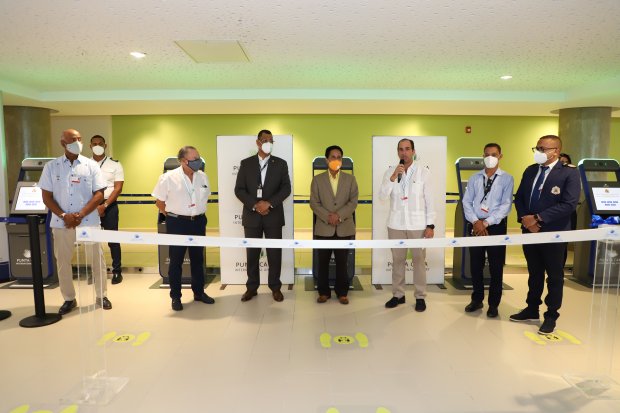 Punta Cana International Airport remains at the forefront, making investments to innovate and achieve the best possible passenger experience, with services such as self-services kiosks (SITA, CUTE & CUSS), reducing the waiting time during check-in and in the migration process with e-gates, an expansion in the visitor parking, a VIP Lounge upon arrival at terminal A, a VIP Lounge upon departure at terminal B and a new design in the baggage claim area.
Punta Cana, Dominican Republic. - Punta Cana International Airport (PUJ) and the Directorate of Immigration put into operation six automated immigration control kiosks or "Automated Border Control (ABC)," cataloged as the safest, secure, and fast entry and exit immigration registration process in the entire Caribbean.
The system debuted in a real-time test with a flight from New York this week, with the presence of Frank Elías Rainieri, director of the Punta Cana International Airport; Enrique García, director of Migration, Frank Rainieri, president & CEO of Puntacana Group and Alberto Smith, director of Landside Operations of PUJ.
With an investment of more than $22 million Dominican Pesos, this system complements the outbound migration gates that were installed in the PUJ at the end of 2018, becoming the most advanced and complete automated processing system in the Caribbean and establishing the airport as the region's only "contactless" airport facility, said officials at the Dominican Republic airport.
The kiosks can process passengers' entry in 5 minutes with only 8 steps: Travelers are asked to select a language, identify themselves as an individual or part of a group, scan their passport, take a photograph, provide their fingerprints, specify the reason for and length of their trip and provide their address while in the country.
American, German, British, Canadian, Spanish, French, Dutch, and Swiss travelers may use the kiosks, which utilize English, French, German, Dutch, Swiss and Spanish languages.
The system enables faster, secure traveler processing and offers "physical distance with less contact between passengers and immigration agents," complementing biosecurity measures implemented by Punta Cana International, said Frank Elías Rainieri, the airport's director.
The Punta Cana International Airport, the migration authorities, and the Dominican government are committed and coordinated to guarantee the safety and tranquility of visitors and tourists using all available means," said Rainieri, "a fundamental element to recover tourist activity in the post-COVID world."