Air Canada Cargo Inaugurates Freighter Service into Punta Cana International Airport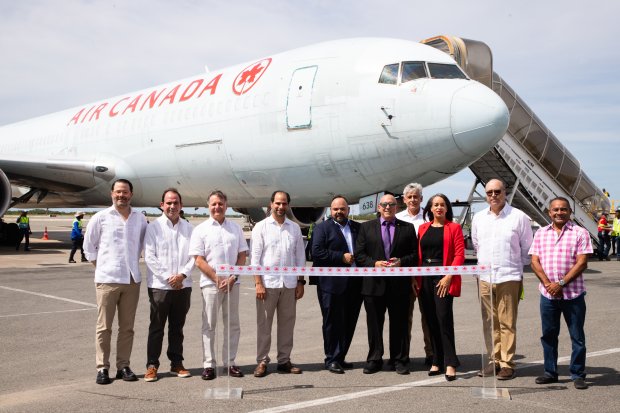 Air Canada Cargo operated its first freighter flight into Punta Cana, Dominican Republic
Air Canada Cargo yesterday operated its first freighter flight into Punta Cana, Dominican Republic, with its Boeing 767 freighter. The service will be operated once per week.
"We are excited to add another destination to our growing network of cargo aircraft. This new service builds on our capabilities to serve the country through Air Canada's passenger network, providing consistent cargo capacity year-round for our key customers in the region," said Jon Turner, Vice President of Cargo for Air Canada.
Air Canada Cargo's flight to Punta Cana is the latest addition to its worldwide freighter network, following recently launched freighter services to San José, Basel, Liege, Dallas, Atlanta and Bogota.
"We are pleased to welcome the first freighter flight from our allies of Air Canada Cargo. As winners of the Airports Council's International Airport Service Quality Awards for seven consecutive years, we are confident that this will contribute to the excellence and diversification of our cargo operations," affirmed Giovanni Rainieri, director of Airside Operations at Punta Cana International Airport.
It should be noted that the Punta Cana Free Trade Zone (PCFTZ), a Grupo Puntacana company, is developing a strategic alliance with the logistics solutions provider DP World, a Logistics Center with the purpose of developing a multimodal platform for the air, land and sea cargo handling.
This project solidifies the position of the Dominican Republic as the most important trade point and logistics HUB for air and maritime cargo in the Caribbean. The Logistics Center will benefit from DP World's extensive experience and world-class standards for managing logistics operations and multimodal cargo, as well as the high connectivity of the Punta Cana International Airport (PUJ), representing the international leadership of both companies. in the logistics and airport sectors, respectively.