Interested in Hosting a Routes Event?
Hosting a Routes event places your organisation and destination at the centre of a forum dedicated to nurturing partnerships between airlines, airports, tourism authorities and economic development agencies.
Air transport is one of the most influential means of economic development and we deliver key decision makers right to your market. As a host you will be able to shape their experience and offer greater insight into your long-term objectives and showcase your destination.
The impacts of hosting can exceed £160 million, with host organisations able to increase their connectivity by over 20% more than their comparators, leading to quantifiable long term benefits. In order to find out more request our Economic Impact Study.
For more information on how to be considered as a Host of a Routes event, or to speak to our team directly please contact Neil Mulligan, Head of Future Hosting.
Delivering substantial network growth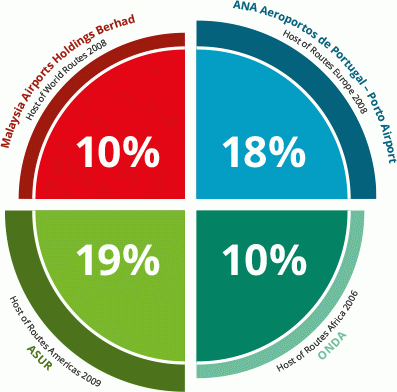 Host destinations networks grow on average 9% faster than their competitors after 3 years.
Previous and Future Routes Events
The map below features all of our previous Routes events alongside upcoming hosts, use the slide out filters to narrow your search and customise your results.