Interested in Hosting a Routes Event?
Hosting a Routes event places your organisation and destination at the centre of a forum dedicated to nurturing partnerships between airlines, airports, tourism authorities and economic development agencies.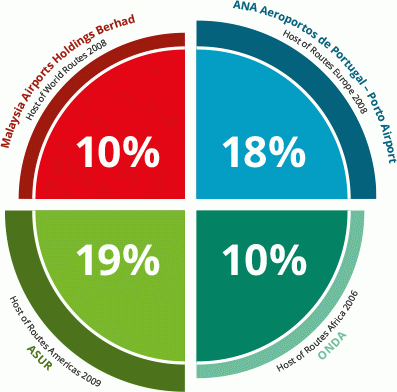 Routes events are not your typical events as the economic impact of hosting is multifaceted; host cities have a platform for increasing connectivity to their destination which cannot be achieved by your traditional conference or by event attendance alone. This increased connectivity leads to quantifiable long term, legacy benefits from growth at the city's airports and increased tourism activity.

Routes hosts hold a unique position as they form the epicentre of the event and are presented the opportunity to showcase their city and airport(s) to potential new airline customers, visitors and partners. Each event delivers key decision makers right to your market and provides significant opportunities for promotion, sponsorship and profile building to offer greater insight into your long-term objectives and showcase your destination to accelerate route development and increase air connectivity.
Having hosted World Routes 2013 in the USA for the first time, the Las Vegas Convention and Visitors Authority and McCarran International Airport experienced monumental network growth, with US$466 million realised from the launch of new routes just one year after the event. The incredible success from hosting World Routes 2013 led the two organisations to collaborate once again in 2017, where they welcomed the American air service development community to their destination for the 10th Routes Americas event:
"As the first U.S. destination to host World Routes in 2013, it is an honour to once again showcase our city to the decision makers in the aviation world. Tourism is the driving force of the Las Vegas economy and convenient and efficient air service is crucial in maintaining and growing the visitor base."

Steve Hill, CEO & President, LVCVA
For more information on how to be considered as a host of a Routes event, or to speak to our team directly, please contact Neil Mulligan, Head of Future Hosting.
Previous and Future Routes Events
The map below features all of our previous Routes events alongside upcoming hosts, use the slide out filters to narrow your search and customise your results.