The route development forum for the Americas
Chicago, Illinois
• 21 - 23 March 2023
Conference Programme
Bringing together high-profile speakers and senior leaders from the air service development and aviation industries.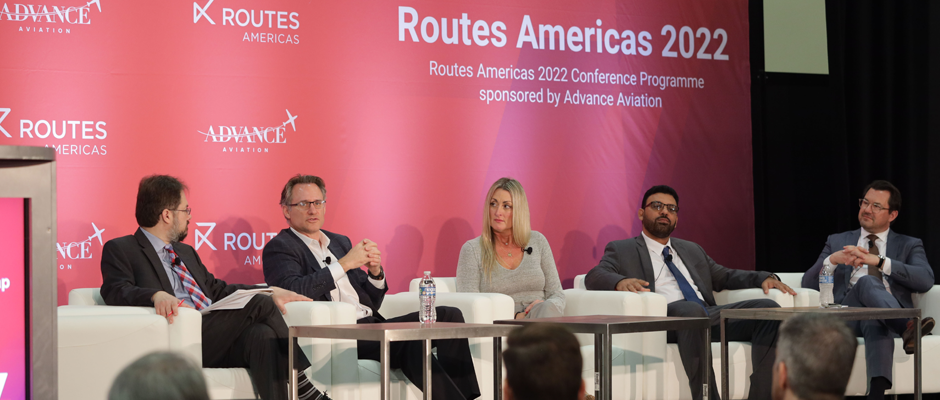 Comprising keynote interviews, panel discussions, airline briefings and best practice workshops, the Routes Americas 2023 conference programme will provide you with exclusive insight into the key air service development issues driving change within the industry, exploring the future of route development in the new post-pandemic era.
Across the three-day programme, we will see speakers cover themes such as the airline network growth strategy through alliances and partnerships, what's happening in the transatlantic market and how the pilot shortage is affecting route development in the region
Book your place View the event programme
---
Routes Americas 2023 Conference Sponsors
Tuesday, 21 March 2023
Welcome introduction from Routes. Hear what you can expect over the course of the event.

Hear more about why Routes Americas 2023 is taking place in Chicago

-

Fireside Chat

Aviation Outlook

Moderator: Karen Walker, Group Air Transport Editor-in-Chief, Aviation Week Network

-

Powerhouse Panel

Alliances, partnerships and mergers

Moderator: Karen Walker, Group Air Transport Editor-in-Chief, Aviation Week Network

The airline landscape across the Americas is continuing to evolve as the market recovers, with new partnerships and alliances coming to the fore. Such ventures are providing an important safety net for carriers, enabling them to more profitable markets and allowing their partners to support wider connectivity.

In recent months, United Airlines has teamed up with Emirates; American has expanded its alliance with Qatar Airways; and Delta Air Lines has received final approval for its joint venture with LATAM Airlines Group.

Elsewhere, JetBlue Airways is seeking to push through the acquisition of Spirit Airlines; Colombian flag-carrier Avianca has high hopes of forming Abra Group with Brazil's GOL; and WestJet is in the process of buying Canadian counterpart Sunwing.

Has the role of airline alliances been heightened since the pandemic? How are the changing airline partnerships across the Americas influencing network development? Where will we see further consolidation in the Americas region?

-

Panel Discussion

Successful marketing & creative strategies for your airport

This panel discussion will share key marketing tactics, strategies, and creative approach to help impact commitment to fly local, decrease leakage, and increase enplanements. Learn about travel trends that help inform creative messaging, and the data driven research that drives a proven digital strategy.

Hear from an airport director's perspective about how these strategies have worked for them.

-

Panel Discussion

Latin America on the new geopolitical stage: How to do business in a world where disruption is the new norm

Moderator: Peter Cerdá, Regional VP Americas, IATA

The last 12 months have seen several major changes in Latin America as 2022 brought elections, scandals and one major sporting triumph. On the political front, the seven most populous countries now have left-of-center governments.

For the region's aviation industry, the lifting of travel restrictions mid-year saw many markets recover strongly, with some exceeding pre-crisis levels. However, IATA expects Latin American carriers to have made a combined loss of about $2 billion in 2022—and remain loss making in 2023 to the tune of $795 million.

How is the changing political landscape across Latin America affecting the aviation sector? Can the industry cope and plan when there is a permanent state of disruption?

Travel and transport experts in the Americas region will discuss how the sustainability factors affect route development decisions and how increasingly environmentally aware travelers choose their destinations based on the way this affects their surroundings.

What are the new data sets showing us? Has travel behavior changed? What strategies are destinations implementing to be more sustainable? Is this a way to attract airlines to their cities? Has Covid reshaped consumer demand? How will travel dynamics in the region evolve?
Wednesday, 22 March 2023
-

Panel Discussion

The dynamic transatlantic market

Moderator: Robert J. Kokonis, President & Managing Director, AirTrav Inc

Transatlantic travel has returned in a big way with North America-Europe capacity during the summer 2023 season forecast to recover to 2019 levels.

All three US majors reported an increase in transatlantic revenue compared with 2019, and many European airlines also have benefited from the strong demand. The strength of the US and Canada has also provided a welcome boost for some European carriers affected by the slower return of some Asia markets and the closure of Russian airspace.

In addition, new players have also entered the transatlantic space, with JetBlue beginning service to London, Norse Atlantic Airways filling a gap left by Norwegian, and Icelandic startup Play introducing further one-stop options via Reykjavik.

The advent of longer-range narrowbodies is also allowing operators to get ever more creative with their network strategies, exemplified by SAS Scandinavian Airlines' decision to open two routes to Newark from secondary cities in Denmark and Sweden.

What is driving the continued growth of the market? How are longer-range narrowbodies changing transatlantic economics? What opportunities are there for secondary cities on both sides of the pond? How important are airport and destination incentives in the short- and medium-term?

Moderator: Michael J. Bell, Senior Client Partner in the Civil Aviation Practice, Korn Ferry

Hear directly from Azul Linhas Aéreas Brasileiras' Chief Revenue Officer about what it takes for a low-cost carrier to survive in Brazil's aviation market.

-

Panel Discussion

Canadian Aviation Evolution

Moderator: Lee Lipton, Senior Vice President, Aviation Strategy, ASM Global Route Development

The Canadian airline industry has undergone major changes in the past several years – even predating the upheavals of the pandemic. A new generation of low-cost carriers has entered the market alongside Porter's emergence as a new network airline on a national scale. Both Air Canada and WestJet have made consolidation moves amid changes to their network, product, fleet, and alliance strategies.

Canada imposed some of the most stringent and longest-lasting border restrictions and protocols in response to COVID-19. Its largest airports swung from dealing with significant capacity constraints to the challenges of empty terminals. Many regional airports are facing challenges recovering capacity and passengers in the wake of airline network changes and supply issues. Destination Canada projects that domestic tourism will be back at 2019 levels in 2023 while international visits to Canada are forecasted fully recover in 2025.

What does the future hold for Canada's airlines and airports? Will the new entrants and new strategies succeed? What are the market dynamics that will shape Canadian travel and air transportation over the next few years?
Thursday, 23 March 2023
-

ASM Masterclass

Creating a sustainable catchment area

Learn how to demonstrate the true potential of your market through data, leakage studies and traffic forecasts with ASM.

Moderator: David Casey, Editor-in-Chief, Routes

At these intreview series you will hear exclusive updates direct from key airline decision makers.

-

Fireside Chat: Aeromexico

All you need to know from Aeromexico

Moderator: David Casey, Editor-in-Chief, Routes

At these intreview series you will hear exclusive updates direct from key airline decision makers.
* Please note like all events, the programme is subject to change.