Africa World Airlines increases domestic frequencies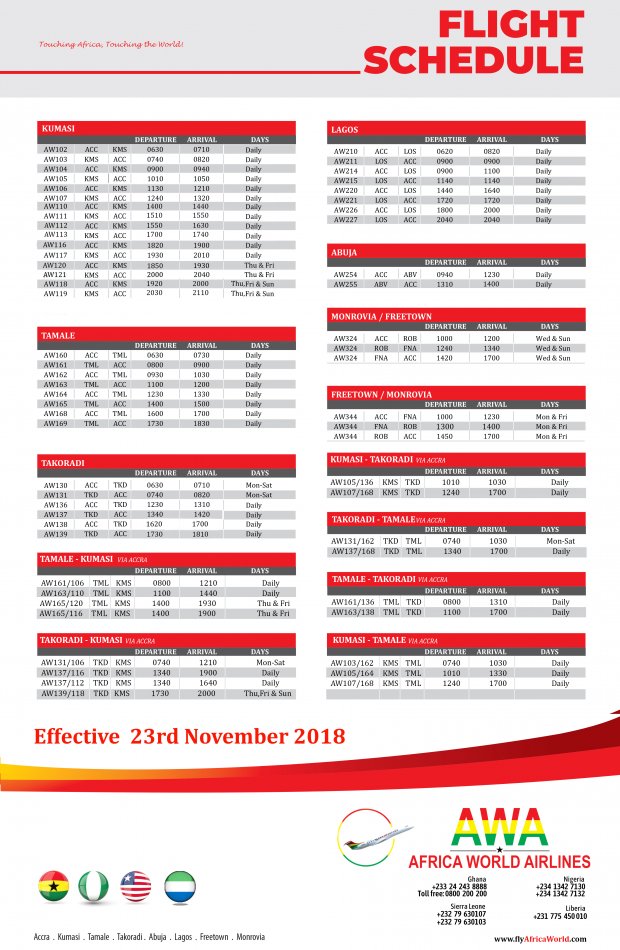 Also offering seamless connections between all domestic points via new Terminal 2 domestic hub in Accra
Africa World Airlines will increase its frequencies on domestic routes in Ghana effective from 23NOV18.
Flights between Accra and Kumasi will increase to up to 8 times daily, between Accra and Tamale to 4 times daily, and between Accra and Takoradi to 3 times daily. All flights will be operated using the modern Embraer ERJ-145 jets that seat up to 50 passengers.
AWA will also offer seamless daily connections between all domestic airports via the new domestic hub at Accra's Kotoka International Airport Terminal 2. Passengers can buy a single ticket and fly without having to pick up and re-check their luggage in Accra thanks to the recent improvements at the airport.
Africa World Airlines recently took delivery of its 7th ERJ-145 aircraft leased from Tianjin Airlines, a sister company within HNA Group. The airline also operates 4 daily flights to Lagos, daily services to Abuja and 4 weekly services to Freetown and Monrovia.