Transavia - a new carrier at Krakow Airport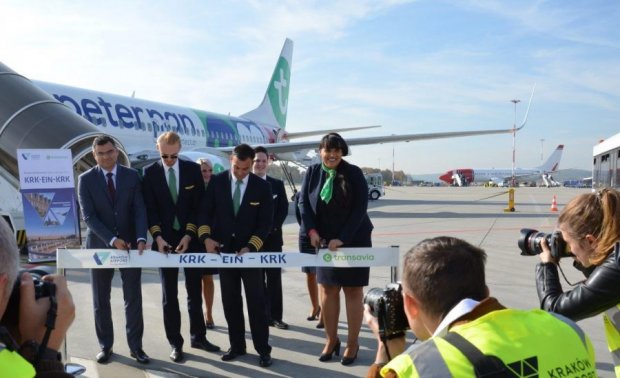 The #flyKRK flight network welcomes a new airline – Transavia from the Netherlands. From today (9th October) Transavia airline offers a direct connection to Eindhoven four times a week: on Mondays, Thursdays, Fridays and Sundays.
The first plane from Eindhoven landed today in Kraków at 1:31 pm LT, and was greeted with a water salute. The scheduled flight time is about 2 hours. The plane took off on a return flight from Kraków to Eindhoven at 2:42 p.m. LT. The route is operated by Boeing 737-800 aircraft, which are capable of seating 189 passengers. The new route is the third connection between Kraków in Poland and Netherlands.

Kraków was recognized as the best city break destination in Europe by a prestigious Dutch holiday portal. Malopolska Region and Krakow are highly rated by foreign investors and recognized in international rankings. Krakow is rapidly growing in interest in the Netherlands for weekend trips. Over the past five years the number of seats from the Netherlands to Poland has been doubled and has been growing with an average of 15% per annum.

The symbolic ribbon cutting ceremony was performed by Radosław Włoszek, CEO at Kraków Airport; and the first officer Mattijs Notkamp; copilot Niels Huber and Crystal Franken purser of the first Transavia flight. Passengers of the inaugural flight were welcomed with sweet treats, the crew was welcomed with cake.