WIZZ AIR LAUNCHES 3 NEW TEL AVIV ROUTES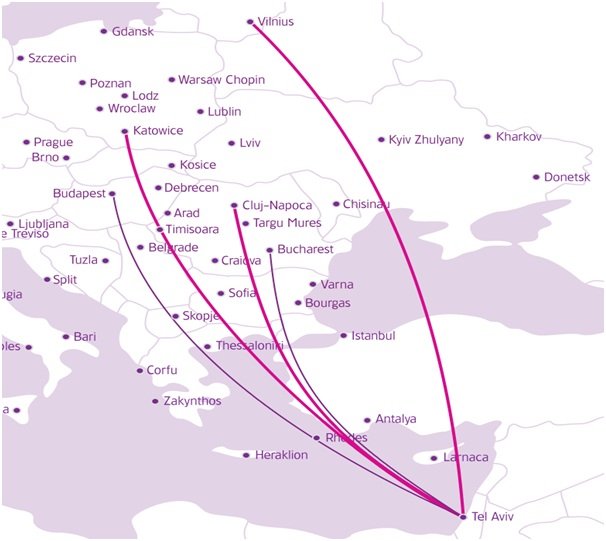 LOW FARES NOW AVAILABLE TO FOUR COUNTRIES
Tel Aviv, 9 July 2013 – Wizz Air, the largest low-fare, low-cost airline in Central and Eastern Europe, today has announced 3 new routes from Ben Gurion International Airport. Flights to Lithuanian Vilnius and Polish Katowice will start operating in late October and will be followed by the route to Cluj-Napoca in Romania in late November. Vilnius and Katowice flights will initially be operating with 2 weekly frequencies while Katowice will have flights three times per week.
Katowice is renowned as a centre of culture, science and business in southern Poland. Cluj Napoca is not only Romania's second biggest city but also its technopolis. This destination is the perfect entry point to explore Transylvania, the mystical home of Dracula. Vilnius is the second biggest city of the Baltic states and a UNESCO world heritage site. This destination will be very popular in summer as it offers easy access to the Baltic sea and an ideal mild summer climate indicated for family holidays. Seats are available from as low as EUR 39.99* (one way, including all taxes) on wizzair.com.
Wizz Air's Daniel de Carvalho said: "We are thrilled to introduce today 3 new routes to the network and connect Israel with two new countries. After the success of our routes to Budapest and Bucharest launched since December 2012 we expect similar enthusiasm from consumers about our new services to Vilnius, Katowice and Cluj-Napoca. Combined with Wizz Air's low fares these destinations will be highly popular among the Israeli community traveling to Europe. We are confident that Tel Aviv will benefit from the inflow of tourists that will visit Israel all year round. Tickets on the new routes are already on sale starting from EUR 39.99* on wizzair.com."
* one way price including taxes
About Wizz Air:
Wizz Air is the largest low-fare, low-cost airline in Central and Eastern Europe and operates a fleet of 45 Airbus A320 aircraft from 17 bases with over 280 routes connecting 95 destinations across 35 countries. At Wizz Air a team of 1,600 professionals delivers superior service and very low airfares making Wizz Air the preferred choice of over 13.5 million passengers in 2013. Wizz Air's state-of-the-art iPhone app is now available on http://wizzair.com/en-GB/mobile.
Notes for Editors:
Wizz Air's route network from Tel Aviv: 5 routes
All flights operated on Airbus A320 aircraft, with 180 seats.
Wizz Air route network from Tel Aviv added below
For free pictures of aircraft, crews and logo library please visit http://wizzair.com/en-GB/press