WIZZ AIR opens new route to Dubai from Katowice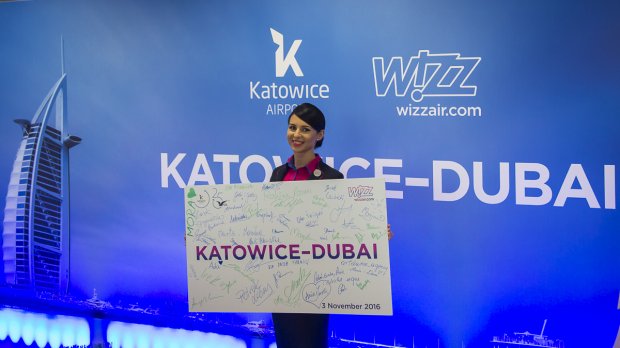 WIZZ will operate three flights per week from Katowice to Dubai World Central Airport
Katowice, 03 November 2016: Wizz Air, the largest low-cost airline in Central and Eastern Europe, opened a new route from its Katowice base. WIZZ will operate three flights per week, on Tuesdays, Thursdays and Saturday, from Katowice to Dubai World Central Airport in the United Arab Emirates.
Dubai beautifully located on the southeast coast of the Persian Gulf is the capital of the Emirate of Dubai, one of the seven emirates that make up the country. Dubai is the United Arab Emirates' fantastic vacation hot spot. The city is famous for sightseeing attractions such as the Burj Khalifa (the world's tallest building), shopping malls and indoor ski slopes. An ideal all year round destinations.
Wizz Air was the first airline operating flights to Dubai World Central in 2013. The airport is designed to become the main aviation center in the region and is expected to become one of the world's busiest airports in the next decade.
Since its first flight in 2004, Wizz Air has constantly expanded its operations in Katowice. The airline has now five aircraft based at Katowice Airport employing some 200 dedicated crew, who deliver excellent onboard service on each WIZZ flight. In 2015 Wizz Air carried more than 1,5 million passengers on its low fare Katowice routes supporting over 1000 local jobs.
With its newest Dubai service, Wizz Air now offers a total of 147 routes to 66 destinations from its eight Polish airports. Seats on the new route are already on sale and can be booked on wizzair.com from only PLN 259 / EUR 59.99*.
Gabor Vasarhelyi, Communications Manager at Wizz Air said: "We are delighted to open another attractive route from Poland. From now onwards WIZZ will connect Katowice with Dubai and we are sure that this new service will be welcomed by our customers who can now enjoy a very popular all year round holiday destination with our everyday low fares. Seats on our new Dubai route are on sale from just PLN 259* on wizzair.com. Our friendly Polish crew looks forward to welcoming you on board with a smile!"