9 Million passenger mark hit! New traffic record for Marseille Provence airport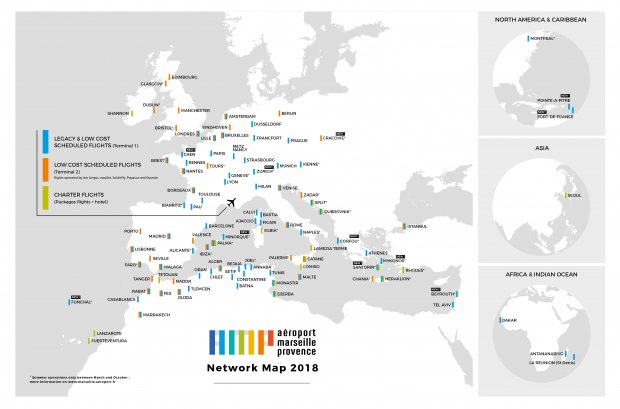 2017 ends on historic figures and welcomes 2018 with enthusiastic prospects!
Marseille Provence holds its Press Conference today and presents 2017 results:
9,000,000 passenger mark passed
More than 56,000 tons of cargo transported
140 Million Euros of revenue (+5%)
With 9,002,086 passengers in 2017 (+6.2% vs 2016), Marseille Provence hits a new all-time high. The growth is mainly driven by International traffic (+9%), while Domestic traffic increase by 2.4%.
Thus, International traffic now represents 60% of MRS flows to compare with 40% for Domestic traffic.
Long-haul wise, the traffic between Marseille and Montreal scores +80% YoY, thanks to Air Canada Rouge new service and Air Transat increased offer.
With 50,000 Tons, MRS ranks #1 among French and Occidental Mediterranean for Express cargo. Traditional cargo represents 6,100 tons and captures +9.4% growth vs 2016.
In 2018, 107 destinations will be offered from the 2nd biggest city in France to 27 countries. Thus, 160 routes will be operated by 33 airlines.
Starting Summer 2018, 21 new routes will emerge compared to Summer 2017:
Volotea, with its 2 freshly based aircraft, will fly 9 new destinations (Biarritz, Caen, Mykonos, Santorin, Heraklion, Menorca, Palma and Funchal)
Air France/Hop! will fly 5 new destinations (Athens, Beyrouth, Caen, Geneva, Metz-Nancy)
Ryanair will fly to Krakow and Frankfurt
Swiss will fly to Zurich
Vueling will fly to Alicante
Aigle Azur will fly to Beyrouth
Air Austral will fly to La Reunion Island
TwinJet will fly to Toulouse
Long Haul traffic foresses a growth of 24% next year, thanks to:
XL Airways flights to French Caribbean
Aigle Azur frequency increase to Dakar
Capacity increase to Montreal
Continuation of flights to La Reunion Island
Doubling of Charter flights from Seoul
In terms of investments, 46 Million Euros will be spent this year for:
The extension and the renovation of Terminal 2, dedicated to LCC, with 2 additional parking stands and a new bag delivery area.
The refurbishment and the renovation of Terminal 1, as well as 15 additional automated border control (to reach 23 in total for Terminal 1 and 2 at the end of the year)
A special thanks to all our partners involved in this record breaking year!