9 DEVELOPMENTS FOR WINTER 2017/2018 FROM NICE COTE D'AZUR AIRPORT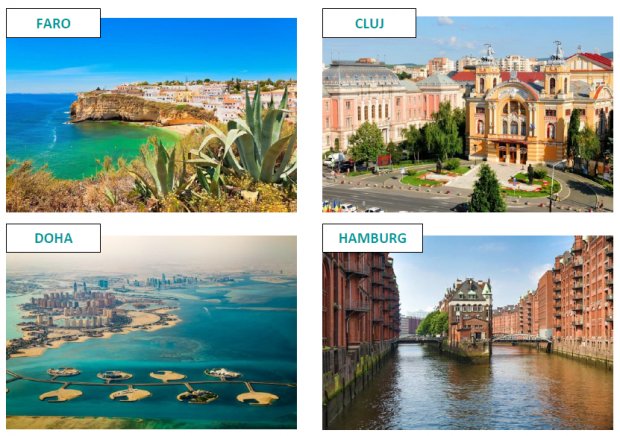 With 4 new destinations and the strengthening of 5 routes, Nice Cote d'Azur Airport unveils its new programme.
4 discoveries:
- The warm climate of FARO, in the far south of Portugal. It is the gateway to the beautiful region of the Algarve. (Operated by EASYJET).
- The charming city of CLUJ in Transylvania, Romania. Right in the heart of Eastern Europe, it boasts a rich cultural heritage. (Operated by BLUE AIR).
- The futuristic skyscrapers of DOHA, in Qatar, and its connections to over 150 destinations in Africa, Asia and the Middle East. (Operated by QATAR AIRWAYS).
- Exploring the canals of HAMBURG, in Germany. (Operated by EUROWINGS).
5 routes strengthened:
Aside from the opening of 4 new destinations, 5 European lines have been strengthened. Ryanair is now operating on the London Stansted route, and EasyJet on the Zurich line. As for Eastern Europe, Eurowings will carry passengers to Berlin, Tarom will be offering Bucharest flights again and Wizzair is continuing its Warsaw programme, launched this summer. The increased number of operators on these lines will make the Côte d'Azur area more accessible, and allow travellers to discover its winter gems.
"Nice Côte d'Azur airport's efforts to reduce the seasonality of traffic and convince airlines of the attractiveness of the French Riviera during the winter period is starting to bear fruit: over 800 flights per week will be offered in winter 2018," explains a delighted Dominique Thillaud, President of the board of Aéroports de la Côte d'Azur.
Top 3 seat increases:
 France: Thanks to the strengthening of the programme, the domestic seat offer for Paris and the French regions is up 8.5%.
 United Kingdom: The winter offer has shot up 14% compared to 2016. Great news for Nice residents wanting to make the most of the favourable sterling exchange rate, and for British visitors, drawn in by the warm temperatures of our region.
 Middle East: The double connection to the Middle East via two hubs: Dubai (with Emirates operating A380 flights) and Doha (newly operated by Qatar Airways). Nice Côte d'Azur airport invites passengers from Nice to discover destinations on the Asian continent, and expects an increased number of visitors from these Asian countries.
Download the winter 2017/2018 scheduled flights programme
To follow destinations from Nice in real time, check out the "Flight Info" section of our website.
KEY FIGURES
38 Regular airlines
68 Direct scheduled destinations
29 Countries served