Nantes and La Rochelle Take Off From Cork Airport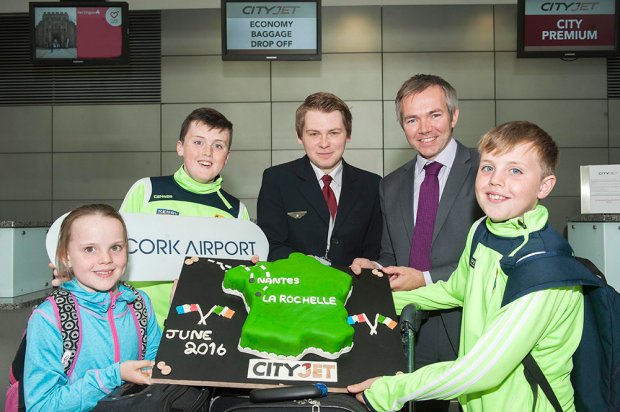 Cork airport today celebrated the weekend launch of two new routes to France with Irish European regional airline CityJet.

Passengers can now fly direct from Cork to the French cities of Nantes and La Rochelle this summer. The first flight to La Rochelle takes off on Saturday, June 18 with flights every Tuesday and Saturday up to August 27. CityJet will fly to Nantes every Sunday from June 19 to August 28.

Celebrating the launch of the two new routes, Niall MacCarthy, Managing Director at Cork Airport said: "We are really pleased to see these flights taking-off this summer from Cork Airport. We have been working very hard to secure new routes for our passengers to add to the network of destinations served direct from Cork and give our customers access to an expansive range of destinations they want to travel to. These new CityJet routes offer passengers in Munster even greater choice and I have no doubt that both services will be very popular."

CityJet's Executive Chairman Pat Byrne, said: "We are delighted to offer direct flights to both La Rochelle and Nantes, providing convenient access to these fabulous tourist regions of France. Just as importantly, it also opens up Cork to French visitors accessing Cork and the south of Ireland.

"We are a family-friendly airline, with an all-jet fleet and complimentary on-board catering, whilst our generous free baggage allowance can save a family of four over €200 on a round trip compared to other options to France. With great value fares still available, we know that these routes will be a popular option to and from France." Mr Byrne added.

François Marie, Managing Director of Nantes Atlantique Airport (VINCI Airports Group) said: "The teams from Nantes Atlantique Airport and VINCI Airports are pleased to welcome this Nantes/Cork route operated by CityJet. It will now be easier for Irish passengers to visit our beautiful region including Nantes, the Great Elephant and the Machines de l'île. They can also visit the Atlantic coast with La Baule beaches and Saint-Nazaire shipyards, or the Loire Valley and its castles. Of course Brittany, with the Mont Saint-Michel and Brest international maritime festival are also excellent options for visitors. Nantes Atlantique Airport brings you closer to all these wonders to discover!"

Long rated one of France's best places to live, Nantes, the capital of the western Loire has changed from a provincial town to a bustling city. This is partly due to revitalisation of its historic city centre. This popular holiday destination provides easy access to the Loire Atlantique coast and the Pays de la Loire with its historical towns and some of the best vineyards in France.

Thomas Juin, La Rochelle Airport Managing Director, welcomed the new flights saying: "I am sure that Irish people will appreciate the La Rochelle lifestyle, its warm weather and its cultural heritage. They can enjoy a drink alongside the Old Harbour on the terraces and choose to stay on the Île de Ré, an idyllic haven on the Atlantic coast for foodies, beachcombers and cyclists in search of an extraordinary beach holiday. La Rochelle Airport is located just five minutes' drive from La Rochelle and the Île de Ré, which allows visitors to start enjoying their holiday immediately."

La Rochelle is often described as one of the most attractive and untouched seaside towns in Europe. This is largely due to its preserved old town and the harbour's fortress towers. It has the largest marina on the Atlantic coast, complimented by an impressive aquarium. This historic city is the gateway to key camping and tourist destinations along the west coast of France, not least the town itself and the nearby Île de Ré.