Iberia Express Launches New Cork-Madrid Service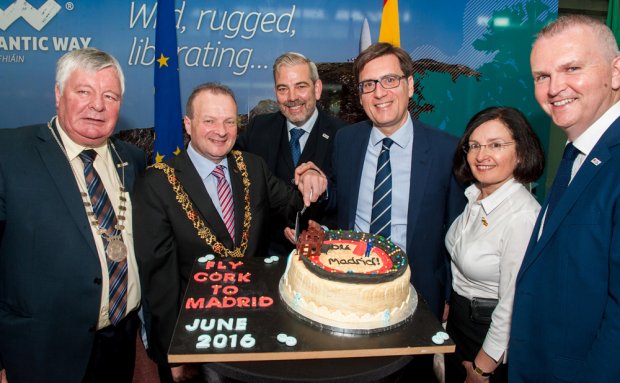 A new twice-weekly Iberia Express service to Madrid took off from Cork Airport today, giving holiday makers even more choice when it comes to choosing their summer holiday destination.

The Deputy Head of Mission to Ireland from the Spanish Embassy in Dublin, Rafael Soriano, attended the launch event at Cork Airport to mark the commencement of the new route. He was joined by Gonzalo Ceballos Watling, Director of the Spanish Tourism Office in Ireland.

Kevin Cullinane, Head of Communications at Cork Airport said: "We are delighted to welcome Iberia Express to Cork and to celebrate the launch of the latest new route from Cork Airport. Securing this new Madrid route has been testament to the hard work of the teams at Cork Airport, Iberia Express and Madrid Airport and I would like to thank everyone for their support in this.

"Securing new Airline partners and expanding our route network to open up new destinations for our passengers is at the heart of our growth plans for Cork Airport. Madrid is an absolutely key Spanish destination. It's internationally known for its culture, shopping, sports events, museums and lively nightlife and is quite rightly heralded as a fantastic holiday and city break destination. The added advantage of this route is that other destinations in Spain are readily accessible from Madrid, being that it is right in the heart of Spain."

Mr Soriano from the Spanish Embassy said: "I am very pleased to see this route taking off from Cork Airport today. Madrid is such a fantastic destination and opening up this part of Spain to passengers from the South of Ireland brings great opportunities. Similarly, Spanish tourists to Ireland will be keen to use the new route and explore this wonderful part of the world. I look forward to the success of this new service."

The new service began on June 18 and will operate until September 17 ensuring sun seekers from the South will have even more choice this summer. Passengers can choose to fly on via Madrid to many Iberia Group destinations in Spain including Alicante, Malaga and Tenerife; Lisbon and Porto in Portugal; Marrakech in Morocco; and Buenos Aires, Mexico City, Montevideo, Sao Paulo and Santiago de Chile in Latin America.

Gonzalo Ceballos director of the Spanish Tourism Office in Dublin, who also attended the event said: "Madrid, the capital of Spain, is a fantastic city that can offer and cater for all types of tourists, it is really great to see it added as a destination direct from Cork Airport making it easily accessible for Irish passengers from the Munster region. We will be working with Cork Airport to help promote the route and with Iberia and Madrid to showcase the region. We are delighted to be with the team in Cork Airport to launch the route today."

Flights between Cork and Madrid will be operated by an Airbus 320 aircraft, equipped with 180 seats distributed in both Business and Economy cabins.