Positive growth of 8% at Cork Airport in 2016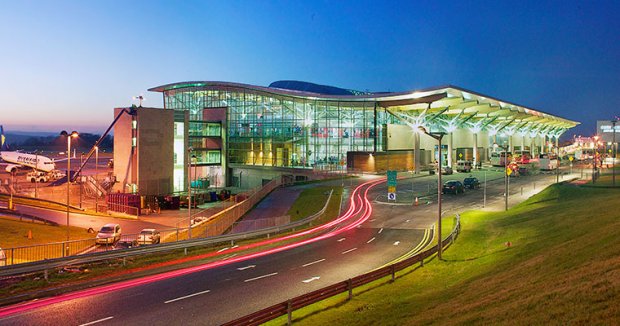 • Additional 160,000 passenger used Cork Airport in 2016 • Growth across all geographic markets • Germany, Spain and Portugal see biggest increases
Monday, 9th January 2017: Cork Airport saw passenger numbers increase by 8% in 2016 year compared with the previous year. This represents an increase in passenger numbers from 2.07m in 2015 to over 2.23m in 2016. The increase comes on the back of a year which saw a positive reverse in the fortunes of the airport including the addition of nine new routes and three new airlines at the airport.
While this growth was experienced across all markets, the biggest increases in passenger growth were on routes to and from Spain and Portugal which experienced significant increases of 13.5% and 35.5% respectively while UK routes saw an increase of 7%. Germany saw an impressive increase of 75% in passenger growth, attributed to the addition of a new Dusseldorf service as well as the strong performance of the German inbound market.
"We are very pleased with our overall performance last year," said Kevin Cullinane, Head of Communications at Cork Airport, "we have been working hard over recent years implementing our return to growth strategy and we saw the first fruits of this work in 2016. Central to our strategy is attracting new routes and new airlines while building frequencies and capacity on existing services, which we did with great success in 2016. We launched several new routes to destinations such as Cardiff, La Rochelle, Southampton, Nantes and Madrid among others and welcomed CityJet, Flybe and Iberia Express as our newest airline partners."
"2017 is shaping up to be another positive year with predicted passenger growth of 5%. This is thanks to the news that WOW air with be operating a transatlantic offering via Reykjavik, SWISS will launch a new direct service to Zurich, while Volotea will launch its planned Verona service. And of, course the very eagerly awaited direct transatlantic services to Boston and New York with Norwegian Air International are expected to take off this summer also, with tickets due to go on sale in February."
Cork Airport is already celebrating the start of 2017 following the announcement that Aer Lingus Regional is to operate a new service to Newquay Cornwall for the summer season. "We are delighted to start the year with positive news and delighted that Aer Lingus Regional is to add its ninth service out of Cork Airport. Cornwall is a stunning destination and I've no doubt will prove very popular with those travelling from the South of Ireland," said Cullinane.
Aer Lingus, the airport's longest established and biggest partner, committed its plans for passenger growth in December will the announcement of an additional daily service to London Heathrow as well as increased capacity across its most popular summer routes; all resulting in 1.1 million available seats for the season.
"While we are in a very positive position starting the year, we cannot become complacent. We need the continued support of our passengers from the region to choose to fly from Cork Airport, whether it's for business or pleasure. Maintaining growth at Cork Airport depends on this support and will also lead to greater choice of destinations," Cullinane said.