Breeze inaugural flight takes off from TPA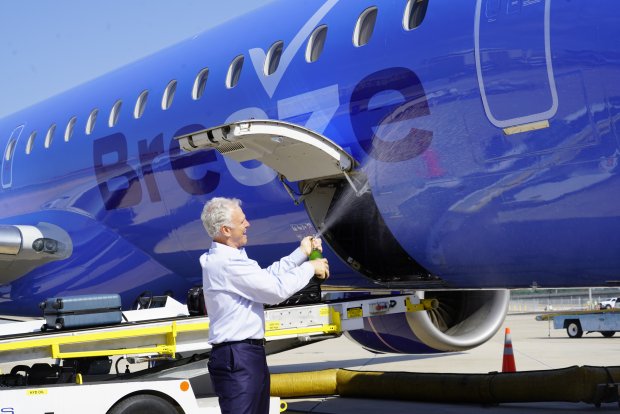 On May 27, Tampa International Airport made history, by launching the first ever Breeze Airways flight!
As a blue Embraer-195 breached through a ceremonial water arch this past Thursday, a new airline was born and flight number 1 earned its wings. With hundreds of balloons, a themed cake and a champagne christening, Breeze Airways launched its inaugural flight, nonstop to Charleston, from Tampa International Airport.
The new airline, founded by JetBlue co-founder David Neeleman, joins the TPA family at a time when the Tampa Bay market is experiencing rapid growth in its recovery from the pandemic and travelers are eager to return to the skies. In the month of May alone, TPA saw a more than 626 percent increase in passenger volume from this month last year.
"I'm confident this airline will be successful, not only because I know David Neeleman's track record, but because of the faith I have in the Tampa Bay area," said Airport CEO Joe Lopano.
Breeze is flying nonstop to ten markets from Tampa International Airport, including:
Charleston, S.C.
Louisville
Oklahoma City
Tulsa
Norfolk
Bentonville/Fayetteville
Akron/Canton
Richmond
Columbus
Huntsville