Frontier Seizes Caribbean Opportunity at TPA, Announcing Four New Routes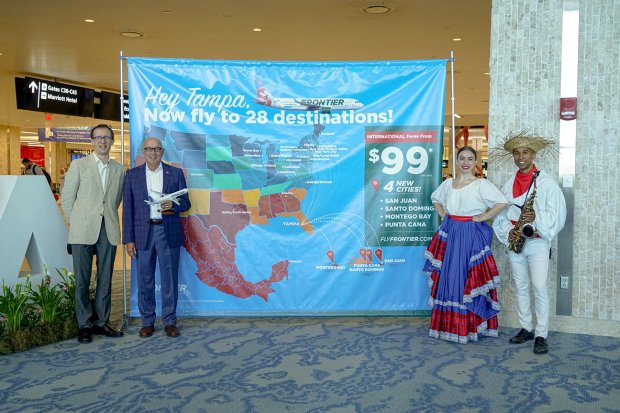 On 3 May, 2022, Frontier announced nonstop service from Tampa to four Caribbean destinations: Punta Cana, Santo Domingo, Montego Bay and San Juan. The airline had previously announced Tampa-Cancun service as well.
Just in time for summer, Tampa International Airport and Frontier Airlines announced they will launch four new Caribbean routes -- including three international -- to Punta Cana and Santo Domingo in the Dominican Republic, Montego Bay in Jamaica, and to San Juan, Puerto Rico. SJU is scheduled as daily year-round service, while the other three are currently slated to operate through the summer on a once- or twice-weekly basis.
The new routes begin in late June and early July, joining TPA-Cancun nonstop service previously announced by Frontier, which starts 27 May.
TPA and Frontier officials made the announcement at TPA's Main Terminal on Tuesday morning, celebrating the announcement with Jamaican soda, Caribbean pastries and Puerto Rican tembleque.
"Frontier will now offer more nonstop routes from this Airport to destinations in Latin America than any other carrier," Frontier Airlines Senior Vice President of Commercial Daniel Shurz said. "We bring low fares, we bring America's youngest fleet of aircraft, and we fly 43 percent further on a gallon of gas than the average in the U.S. And now, instead of flying through a much busier, much more congested airport, you can enjoy the calm of using Tampa International."
The new Frontier service will add to TPA's international nonstop destinations, which have been gradually returning since the pandemic.
"Frontier has been an important part of TPA's recovery and growth over the past year and we're excited to now see this partnership expand into international service for our passengers," Tampa International Airport CEO Joe Lopano said. "We expect these flights to be extremely popular here and a welcome addition to our roster of nonstop destinations."
Last year, Frontier established TPA as a new crew base and began hiring area residents to fill flight crew, ticket agent and baggage handling positions.
Frontier's Jamaica and Dominican Republic flights will mark the first new international service to previously unserved destinations at TPA since the beginning of the pandemic. The Airport has since restored existing service to Panama City, Havana, London, Cancun, Nassau, Grand Cayman, Frankfurt, Zurich and several cities in Canada.
New Routes from Tampa International Airport (TPA):
| | | | |
| --- | --- | --- | --- |
| SERVICE TO: | SERVICE START: | SERVICE FREQUENCY: | INTRO FARE: |
| San Juan, Puerto Rico | June 23, 2022 | Daily | $99 |
| Santo Domingo, D.R. | June 30, 2022 | 2X weekly | $99* |
| Montego Bay, Jamaica | June 24, 2022 | 2X weekly | $99* |
| Punta Cana, D.R. | July 2, 2022 | 1X weekly | $99* |
Frequency and times are subject to change, check FlyFrontier.com for the most updated schedule.