Breeze announces 4 new destinations from Tampa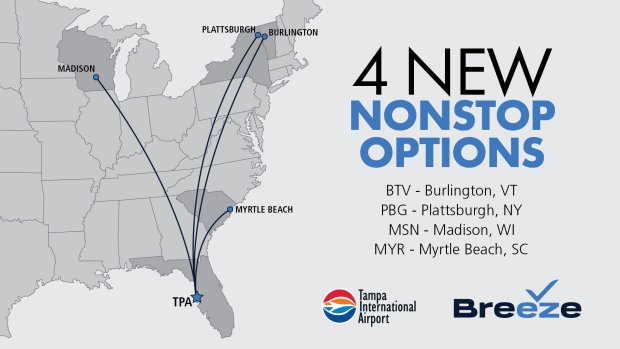 Beginning in early 2024, the carrier will add four additional routes currently unserved by any airline at TPA
Tampa International Airport is getting a quartet of new destinations next year, with Breeze Airways announcing four nonstop routes that will take off in early 2024 -- bringing that airline's total number of nonstop routes at TPA to 20, which is double the number the airline launched with two years ago.
Starting Jan. 31, 2024, Breeze will begin service from TPA to Burlington, VT; on Feb. 2 the airline will travel to Plattsburgh, N.Y.; then on Feb. 7 Breeze will add Madison, WI year-round; and year-round service to Myrtle Beach, S.C., will kick off May 10.
Three of the destinations – Burlington, Plattsburgh and Myrtle Beach – are all-new routes that have never flown nonstop to TPA by any airline. Breeze said Burlington and Plattsburgh will be seasonal in the winter and spring. Each route will operate twice weekly:
Burlington and Madison will operate Wednesdays and Saturdays.
Plattsburgh and Myrtle Beach will operate Fridays and Mondays.
"We're proud to add this new service to Burlington, Plattsburgh, Madison and Myrtle Beach and look forward to being able to offer TPA's travelers these options and more in the future," TPA CEO Joe Lopano said.
Breeze will offer its signature "Nice," "Nicer," "Nicest" fare pricing, with introductory fares as low as $49 one way for reservations purchased by Nov. 14 for travel by Sept. 3, 2024.
"Breeze's focus is on connecting underserved markets, adding nonstops between cities without existing service," Breeze Airways President Tom Doxey said. "As we continue to introduce new service from Tampa, we're proud to bring four affordable and convenient new travel options to our guests."
Breeze also announced last month that it will start flying a nonstop route from TPA to Gulfport/Biloxi beginning Jan. 12. That route marks the first time TPA has had nonstop service to the region since 2011.
| | | | |
| --- | --- | --- | --- |
| AIRLINE | SERVICE TO: | SERVICE START: | SERVICE FREQUENCY: |
| Breeze Airways | Burlington, VT (BTV) | Jan. 31, 2024 | 2x/week |
| Breeze Airways | Plattsburgh, NY (PBG) | Feb. 2, 2024 | 2x/week |
| Breeze Airways | Madison, WI (MSN) | Feb. 7, 2024 | 2x/week |
| Breeze Airways | Myrtle Beach, SC (MYR) | May 10, 2024 | 2x/week |