MIA wins ACI Europe's Best Airport Award 2010 in its category - 6/18/2010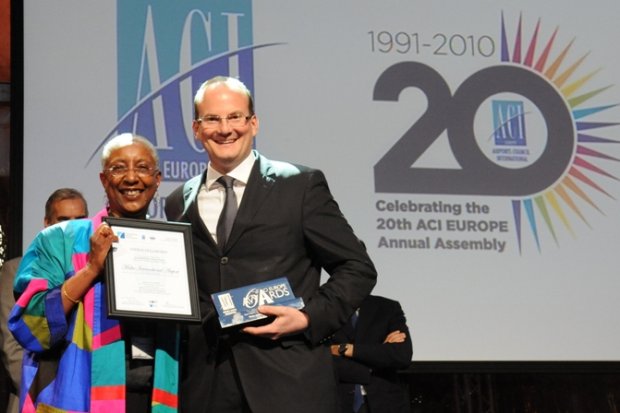 Malta International Airport is the 'Winner of the ACI EUROPE Best Airport Award 2010: up to 5 million passengers category. This award was presented to the Chief Executive Officer Julian Jaeger by Angela Gittens Director General of ACI World for MIA's excellent and innovative entry, reflecting the airport's serious progress across the range of competition criteria states an official statement released by ACI today.
Julian Jaeger's reaction soon after receiving the award expressed satisfaction and gratitude for the efforts of all those who contributed towards this success. "In these circumstances I would first of all thank all the members of MIA staff without whose dedication this award would not have been achieved. I would also like to thank all the stakeholders who supported our initiative in order to make possible the improvements that have materialised".
The 6th Annual ACI EUROPE Best Airport Awards were announced last night in Milan during the gala dinner of the 20th ACI EUROPE Annual Congress. It was the conclusion to a day of intensive exchanges and debates between more than 400 top industry representatives, national governments and EU officials, under the theme of this year's event 'A 20 year vision of the airports of 2030'.
This years' judging panel was drawn from a well-respected group of independent experts including the European Commission, EUROCONTROL and the European Disability Forum.
ACI EUROPE counts more than 400 airports in 46 European countries among its membership and this year's competition saw a high level of entries in each of the four categories.
The ACI EUROPE Best Airport Awards cover 4 categories of airport and aim to recognise achievement in core activities such as customer service, retail, security and environmental awareness.
The winner of the '5-10 million passenger' category was Lyon Airports, this year's award in the '10-25 million passenger' category went to Manchester Airport, whilst the 'over 25 million passengers' category went to Barcelona Airport.