Aalborg Airport is inaugurating new and more effective security flow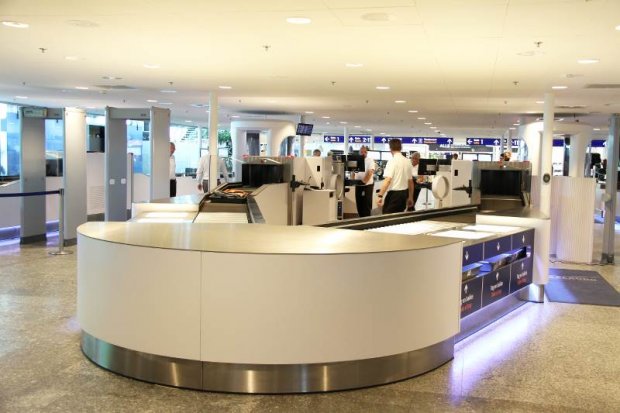 Today, Aalborg Airport could initiate a new and even more effective security flow for the benefit of the passengers. This means less waiting time and less trouble with the hand luggage when they are going through the security check at Aalborg Airport.
On the day of the airport's 81th birthday, Aalborg Airport today could inaugurate a new security flow, which is 80 percent more efficient than the previous one, and thus gives it even shorter waiting time for passengers when they go through the security check.
Already in the spring of 2018, passengers were able to use two new e-gates at the entrance to the security control, where they themselves scanned the boarding pass, and in September 2018 a new technology was ready, which means that passengers should not have the electronics out of the carry-on baggage.
In addition to the new technology, where the passengers do not need to have the electronics out of the hand luggage, there are now four new security flows with a total of 10 stations, against previous three flows with each one station, where the passengers can get ready. In addition, it has become more automated where, among other things, the trays come directly to the passengers, and they also run directly back under the belt and are ready for the next passenger. With the new security flow approx. 975 passengers pass through the hour against the previous approx. 540 passengers.
- At Aalborg Airport we work continuously to create the best flow for passengers when they go through the security check. With the new flow, we increase both efficiency by 80 percent and our passengers meet a modern and user-friendly safety control , says COO and Deputy Director at Aalborg Airport, Kim Bermann.
Aalborg Airport has invested more than a million in the new security flow, which has been developed in collaboration with Marcus Pedersen, Houlberg Instrumentation and Smith's Detection. Besides increasing the efficiency of the flow, it becomes a showroom for other airports, as it is the first place in Denmark where you can present the combination of this technology and design.