Izmir Adnan Menderes Airport welcomes London flights launched by British Airways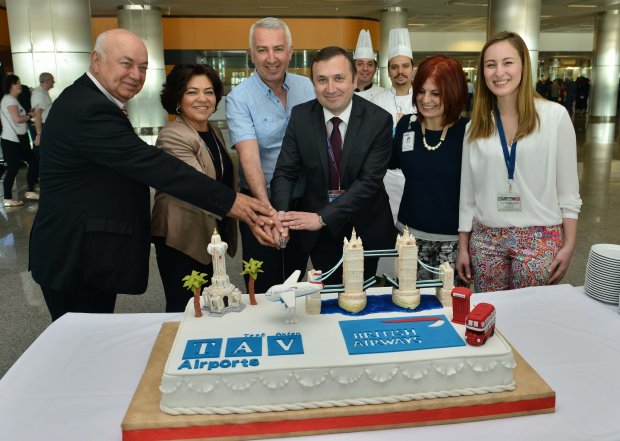 Izmir Adnan Menderes Airport is starting to host flights from London Heathrow Airport by British Airways.
Direct flights by British Airways between Izmir Adnan Menderes Airport, which is operated by TAV Airports, and Londra Heathrow Airport have started. The first flight of British Airways, that took off from London by Airbus A320, landed to Izmir Adnan Menderes on Saturday, May 7th, at 13:45. The flight crew and 166 passengers of the flight were welcomed with flowers.
TAV Ege General Manager Erkan Balcı stated: "Adnan Menderes Airport is the gate of Izmir, one of the major cities of Turkey in tourism and commerce, which is opening to the world. We have been carrying out various marketing activities to increase particularly direct international flights at home and abroad. In this manner, we are glad to have British Airways back to our flight network after five years that commences flights between Izmir and London."
British Airways is going to facilitate reciprocal direct flights from London Heathrow Airport on Saturdays between May 7th and October 29th.
Adnan Menderes Airport hosts 50 airline companies launching domestic and international flights to a total of 92 destinations in 28 countries. The airport hosted approximately 80,000 flights in 2015 while providing services to 12.1 million passengers.
About TAV Airports
TAV Airports, one of the world's leading airport operators, operates Istanbul Atatürk, Ankara Esenboğa, Izmir Adnan Menderes, Milas Bodrum and Gazipaşa Alanya airports in Turkey. Tbilisi and Batumi airports in Georgia, Monastir and Enfidha-Hammamet airports in Tunisia, Skopje and Ohrid airports in Macedonia, Madinah Airport in Saudi Arabia and Zagreb Airport in Croatia are also operated by TAV Airports. TAV Airports is also active in other areas of airport operations including duty free, food and beverage, ground handling, IT, security and operation services. Within the same context, TAV Airports also operates duty free, food and beverage and other commercial areas at Riga Airport in Latvia. Together with its subsidiaries, the company provided services to 780,000 flights and 102 million passengers in 2015.