Putting Bournemouth on the Cargo Map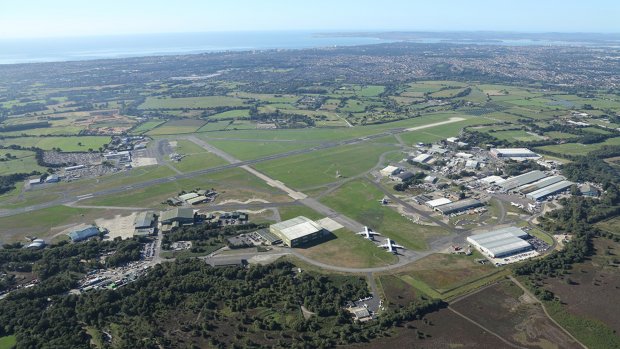 Behind the California-style beach promenade, the sandcastles, cafes and bars, sits Bournemouth Airport, riding the waves and proudly announcing its arrival in the air cargo market. For many years a gateway for holidaymakers, it is now successfully crafting a parallel identity to become an air cargo hub of choice in the South of the UK.
Heading up the cargo ambitions is newly appointed Bob Matharoos, as Head of Cargo Development.
Matharoo has joined Bournemouth Airport from APG Cargo, where he assumed the role of Cargo Director. Within his 30 years in the airfreight industry he has also worked with Global Airline Services, bmi Cargo and Lufthansa.
"Our cargo business is a critical part of our long-term growth plan at Bournemouth Airport and Bob's appointment as Head of Cargo Development recognises this," said Steve Gill, Managing Director.
"Bob is responsible for the development of our cargo business, building upon the excellent progress we have made recently. We're thrilled to have him on board to take the cargo helm and steer our operation forward. His knowledge, experience and know-houw are already proving invalubale - to ourselves and to our clients."
This is trule the opportune time to join Bournemouth Airport and Matharoo is keen to further unlock the Airport's vast and, as yet, untapped potential as a key Southern UK cargo hub.
"I am very excited to be appointed. Cargo plays an increasingly important role at Bournemouth, and ironically the pandemic has created cargo opportunities for the Airport," Matharoo explained.
A viable alternative to London
Strategically located on the UK's South Coast, the Airport is a hidden cargo gem. It has the benefits of an uncongested airfield and airspace, short taxi times and no air or ground holding delays.
"Bournemouth is a viable alternative to the busy London hubs," said Matharoo.
"It offers easy road accessibility to the largest cities right across Southern England, with an averaye drive time of on hour forty minutes, with the London M25 zone being within an easy ninety minutes drive time. On average, busy London cargo hubs can have a three to six hour aircraft to landside processing times, compared to an average of an hour at Bournemouth.
"The Airport retains control of the end-to-end processes on site to ensure this efficiency. The "one stop shop" solution on offer includes air traffic and airfield services, all airside aircraft and cargo handling services, all ancillary handling services and operation of cargo terminal and customs facilities. Customer Service is at the heart of our differentiated offer, made easier by us managing all components of the operation."
Cargo opportunities
Although the pandemic has caused widespread disruption to the air cargo industry, demand is high and valuable opportunities have arisen.
"European Cargo is based at Bournemouth and has fifteen Airbus A340-600 aircraft of which six have been converted into freighters. Euroopean is operating daily flights from China, which is supporting the nation with PPE and Covid test kits," noted Matharoo.
"Since last year, we have also operated up to daily commercial cargo only flights to New York (JFK). Bournemouth has the ability to support freighter/'preighter' operations into the South, which can then feed the whole of the UK.
"My role is to ensure that I put Bournemouth Airport on the map, ensuring that carriers, integrators, charter brokers, cargo agents and all links into our wonderful logistics chain are aware of our valuable services, creating a customer-focussed Southern air cargo hub."
First published 23 June 2021, Air Cargo Week https://www.aircargoweek.com/bournemouth-airport-cargo-hub/