ISTANBUL SABİHA GÖKÇEN INTERNATIONAL AIRPORT WELCOMES QATAR AIRWAYS 1 MILLIONTH PASSENGER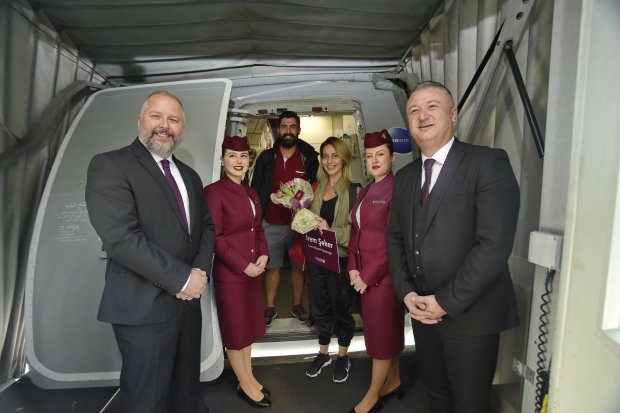 Sabiha Gökçen ("SAW"), the city airport of Istanbul, held a special welcoming celebration for Qatar Airways 1 millionth passenger. This also coincides with the 5th anniversary of Qatar Airways operations in SAW. Qatar Airways, a member of One World alliance currently operates 21x weekly frequencies from SAW.
Qatar Airways was the first full service foreign carrier to operate from SAW when it first commenced its operation in May 2014, starting with a 1x daily frequency on a narrow body aircraft. This was gradually increased to 2x daily frequencies and subsequently 3x daily frequencies with a wide body aircraft.
İrem Şeker, on board from Doha to Sabiha Gökçen together with her husband, was the lucky 1 millionth passenger. Caught by surprise, she was greeted with cheers from SAW and Qatar Airways officials. She received two complimentary tickets of Qatar Airways from SAW to Doha, which handed over by Mr. Ferit Aksun, Country Manager Eastern Europe South.
Other passengers on board together with the flight crew were also welcomed with traditional Turkish delights and refreshments. This followed by a cake cutting ceremony and gift exchange between SAW and Qatar Airways.
"We are proud of this partnership with Qatar Airways, serving the passengers through our airport and facilities,'' says Ersel Göral, CEO of SAW. He added, "We have come through a long way since we started this journey with Qatar Airways 5 years ago. Qatar Airways presence here has certainly supported us in achieving further growth as well as strengthens SAW's position as one of the major airports in Europe. In years to come, we hope that this partnership will continue to bring further success to both Qatar Airways and SAW. The combination of Qatar Airways strong network and high service quality together with SAW's excellent terminal facilities will greatly benefit the passengers.
His comments were echoed by Ferit Aksun, Country Manager Eastern Europe South "Qatar Airways is delighted to able to celebrate our fifth anniversary of operating from Sabiha Gökçen, as well as welcoming our one millionth passenger on the route. We have further strengthened our commitment to the important Turkish market this year by opening a route to Izmir and we hope to continue our growing relationship in the years to come."