Pittsburgh Gains New Nonstop Service to Kansas City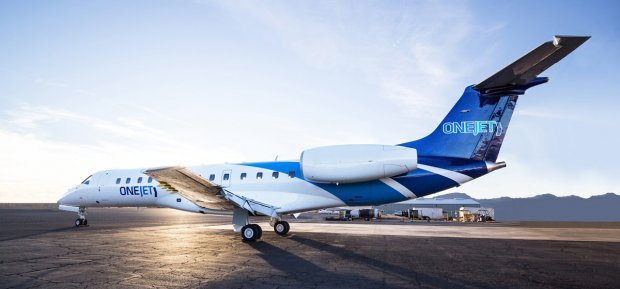 PITTSBURGH – OneJet, the air transportation network that provides consumers with increased access to nonstop travel in small and medium markets, today inaugurated nonstop service between Pittsburgh International Airport and Kansas City.
OneJet will now offer twice-daily round-trip flights between Kansas City International Airport and Pittsburgh International Airport.
The OneJet Plus service provides an enhanced service experience onboard retrofitted ERJ 135 regional jet aircraft, including increased leg room at every seat, complimentary 4G high-speed Wi-Fi, streaming entertainment gate to gate, and complimentary beer, wine and premium snacks en-route.
The OneJet Plus–branded ERJ135 aircraft offers a comfortable 30-seat cabin for the two-hour gate-to-gate service, with convenient morning and afternoon flights Monday through Friday.
"We're extremely pleased to welcome Kansas City to the OneJet network," said Matt Maguire , OneJet CEO. "The Pittsburgh - Kansas City route is of particular importance to our business customers operating in both cities and we look forward to providing a fast and convenient linkage between these key metropolitan areas."
"OneJet continues to offer key nonstop service for our community to other mid-size markets that otherwise would not be served nonstop. The latest addition of Kansas City offers another nonstop option at Pittsburgh International Airport," Allegheny County Airport Authority CEO Christina Cassotis said. "The introduction of larger aircraft by OneJet demonstrates the increasing demand for service in the Pittsburgh market."
"The Kansas City Aviation Department is excited that the day is here for the launch of OneJet in Kansas City with their high-quality OneJet Plus product," said Kansas City Director of Aviation Pat Klein." Pittsburgh is a commonly requested destination from our customers, and the new service provides local travelers enhanced access."
OneJet opened its first base in Pittsburgh in May 2016 with two daily flights. The company now offers more than 220 weekly flights to and from its operating bases in Pittsburgh and Milwaukee, as well as exclusive nonstop service to and from Albany, Buffalo, Cincinnati, Columbus, Hartford, Indianapolis, Kansas City, Louisville, Omaha, Palm Beach, Providence and Richmond.