Passenger Traffic Up Nearly 15% in March at Pittsburgh International Airport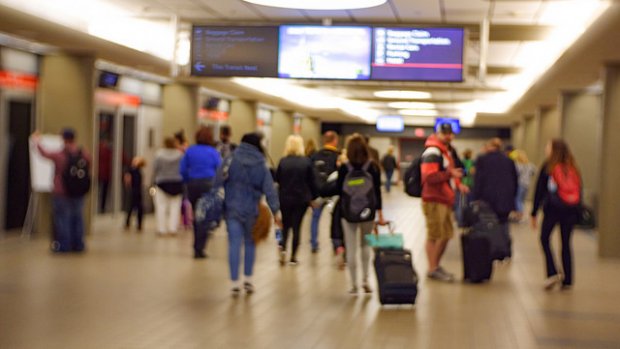 March 2018 Marks Nearly Two Consecutive Years of Passenger Growth
PITTSBURGH – Showing the biggest monthly gain in passengers in over a decade, passenger traffic at Pittsburgh International Airport grew nearly 15 percent in March and is up 12 percent through the first quarter of 2018.
In March 2018, 824,647 traveled through PIT as compared with 718,077 in March 2017. Year-to-date, 2,094,980 had traveled in 2018 compared with 1,871,175 total passengers in 2017. The timing of Easter falling on April 1 helped boost March numbers with travelers departing in March for their Easter holiday celebrations.
International charter service to the Caribbean, and year-round service to Europe on WOW air further contributed to increases. In March, Allegiant offered twice weekly charter service to Cancun and Punta Cana, along with weekly charter service to Puerto Plata. Delta and American also had weekend scheduled service to Cancun throughout the month, and WOW continues to provide nonstop transatlantic service four times weekly to Reykjavik, Iceland which connects to multiple major markets in Europe such as London, Amsterdam and Dublin.
International traffic at PIT was up 36.7 percent in March and 33.6 percent year-to-date, with more than 223,000 travelers flying abroad. International service will continue to expand in May with new nonstop flights to Montreal on Air Canada and the return of nonstop service to Paris on Delta on a larger aircraft and nonstop service to Frankfurt on Condor.
"These numbers indicate a very healthy market in the Pittsburgh region as travel continues to increase for business and leisure travelers," said Allegheny County Airport Authority CEO Christina Cassotis, who also noted that numbers have not been this robust at the airport in over a decade.
"More business and leisure travelers are taking advantage of the additional service on nearly every carrier such as JetBlue and Delta to Boston and United with service returning to San Francisco," Cassotis said. "They are taking advantage of the range of options for regional, national and international travel."
Regional carriers OneJet, which started service to Palm Beach and Kansas City in March, and Southern Airways Express also showed increases, along with low-cost carrier Spirit which now carries about seven percent of all traffic at PIT to eight destinations including Los Angeles, Las Vegas, Dallas-Fort Worth, Myrtle Beach and multiple markets in Florida.
Additionally, takeoffs and landings and total passengers at Allegheny County Airport in West Mifflin also continue to increase. More than 105,000 people traveled through the airport through first quarter 2018 than in 2017.