Wizz Air commences new route from Palanga to Dortmund in Germany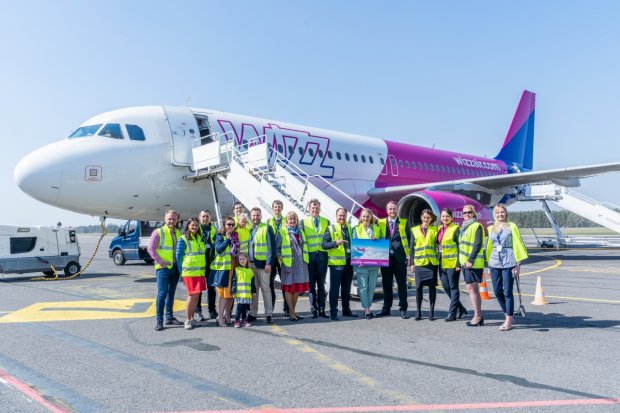 Wizz Air, one of Europe's fastest growing airlines, and the leading low-cost carrier in Central and Eastern Europe, started operating a new route from Palanga.
The newest WIZZ service twice a week connects the Lithuanian city with Dortmund in Germany. Seats on the route can be booked on wizzair.com or via the WIZZ mobile app from EUR 9.99*, which includes a free carry-on luggage allowance of up to 40x30x20cm dimensions.
Germany's eighth largest city Dortmund offers a picture full of contrasts. With a long and rich history that goes back over 1,100 years it offers lots of things to see around town: starting with historic buildings like Altes Stadthaus, concrete constructions with Romanesque churches like the Reinoldikirche and the near-complete destruction of Dortmund's city centre during World War II (98%) it offers extraordinary architectural landscape. Located in the centre of Europe the city is a perfect example where the industrial meets old age charm.
Wizz Air's first Palanga flight took of 2016 connecting Lithuania's "summer capital" with London Luton. During that time WIZZ carried almost 200,000 passengers on its low fare routes to and from Palanga.
Overall the airline offers a total of 26 low-fare routes to 15 countries from its three Lithuanian airports, Vilnius, Kaunas and Palanga, providing affordable access for both business and leisure travellers across the Europe.
Andras Rado, Corporate Communications Manager at Wizz Air, said: "We are delighted to add a new service from Palanga to Dortmund, operating on Wednesdays and Sundays that will provide convenient, affordable travel option for both business and leisure travellers. We are confident that our customers will appreciate this low-fare connection to Dortmund and this route will be as popular as the other 25 in our Lithuanian network. We will continue to further expand our network footprint and provide truly affordable prices, as well as stimulate the local economy of the communities we serve."
About Lithuanian Airports
The Lithuanian network of airports includes three airports in Vilnius, Kaunas and Palanga. During 2018, they served 6.3 million passengers and 61 thousand flights. During the winter season, 14 airline companies organize flights in 86 directions to 67 cities in 27 countries. Based on data of the Airports Council International (ACI Europe), Lithuanian airports contribute to the Lithuania's GDP by 2.5 percent.