Beautiful results in 2018 for Sibiu International Airport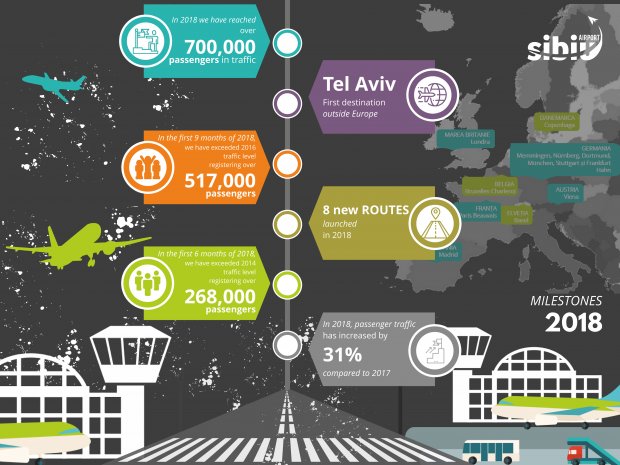 Over 700.000 passengers in 2018
The year 2018 was a year of premieres for Sibiu International Airport, which has put its mark on the development of the Sibiu Airport, consolidating its position and role in the region through its recorded performances.
The year 2018 brought record numbers to Sibiu International Airport, registering a total of 700,353 passengers, with a significant increase of + 31.32% compared to 2017, when a total of 533,306 passengers were registered. Thus, in 2018 it was the first time the threshold of 700,000 passengers was exceeded crossing the airport from Sibiu.
The number of passengers registered in the first semester of 2018 (period January to June) reached the threshold of 268,000 passengers, thus exceeding the level traffic in 2014, respectively by 250,431 passengers. Moreover, between January and September 2018, more than 517,000 passengers have chosen airport services in Sibiu, so at the end of the first nine months of 2018 the total traffic achieved at Sibiu International Airport in 2016 was exceeded by respectively 390,417 passengers.
Also, in 2018, a new peak of the passenger wave was reached in a month in August, over 85,000 crawled passengers were registered this year. In addtion to direct flights to 8 destinations were launched, including the flight to Tel Aviv connecting Sibiu for the first time with a city outside Europe, and starting July 2018 with Sibiu being reconnected with the capital of Romania - Bucharest.
Year 2018 was a year of good results for the Sibiu International Airport, due especially to the passengers who chose to be part of the airport story, partner airlines that alsojoined with the development trust Sibiu Airport, as well as the entire team that has responded positively to day to day challenges, meeting the needs of passengers who chooseto fly from Sibiu.
SIBIU INTERNATIONAL AIRPORT
73 Alba-Iulia Road
550052 - Sibiu, Romania
Tel.: 0269 253 135, 0269 253 984
Fax: 0269 253 131
Website: www.sibiuairport.ro
Facebook: www.facebook.com/sbzairport
Instagram: www.instagram.com/sbzairport
Twitter: www.twitter.com/sbzairport