Gollum dives into Wellington Airport's terminal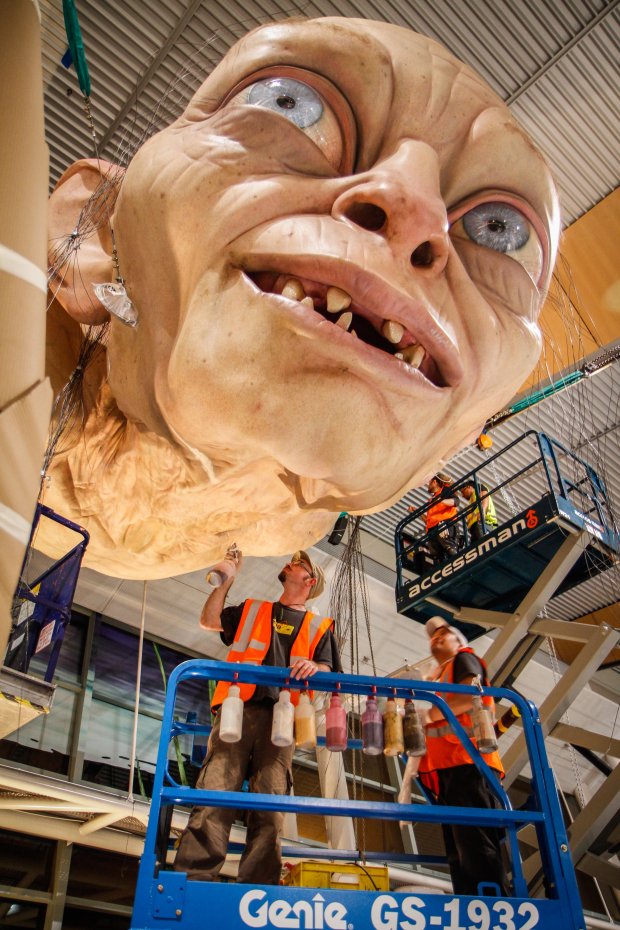 Gollum dives into Wellington Airport's terminal
A 13 metre long Gollum dove into Wellington Airport on Friday morning to catch fish swimming in the main terminal building.
The sculpture, which is suspended from the roof, shows the emaciated physique and momentary expression of glee on the face of Gollum, submerged and reaching for his favourite meal of 'juicy sweet fishes'.
It has been developed by Weta Workshop and Wellington Airport to welcome visitors to the Wellington region in New Zealand.
The Gollum creation was designed and facilitated by Weta Workshop's creative lead Richard Taylor and Workshop Supervisor Rob Gillies to create an unforgettable experience into Wellington Airport, the gateway of the Wellington region, New Zealand.
Richard Taylor, who was overseeing the project said, "we have had a long and wonderful relationship with the Wellington Airport team, who continually focus on presenting an exciting gateway into our city. We are thrilled to once again be creating something with Wellington Airport that will bring delight to the many visitors coming to our fabulous city."
The Airport has also renamed their terminal, welcoming arriving passengers with a sign saying 'The Middle of Middle-earth'.
"As the first and last impression to our region, the Airport is proud to work with Weta and have this magnificent sculpture on display for all to see. Everyone will be amazed when they enter the terminal. Visitors can walk under and around Gollum and the fish to explore the sculpture's beauty and intricate detail; it really does feel like you're in the stream with him," said Steve Sanderson, Wellington Airport's Chief Executive.
Art Directed by Rob Gillies, Gollum was 3D modelled into the airport display space. It was then created as a partly digital, partly physical sculpture by a team of 18 Weta Workshop sculptors, model makers, painters and other specialists.
Milled and sculpted from huge blocks of polystyrene and coated in epoxy resin, Gollum weighs in at 1.2 tonnes and stretches more than 13 metres into the airport terminal.

The three fish were hand sculpted using a fish sculpture from Richard Taylor's bathroom as reference.

The piece had to be created as 9 separate components to fit through the doors of Wellington Airport. Its structural armature is scaffolding pipe designed to bolt together and it was installed over three nights.
Key facts for the installation:
Made up of 9 separate components that were brought in through the main terminal doors and then clamped together and painted onsite.
It is connected to the Main Terminal trusses by 10 suspension wires
There are 3 fish which are 4m long each
9 bubbles are coming out of Gollum's mouth
The sculpture weighs 1.2 tonnes
13 metres long and 3 metres high
Made of polystyrene and covered in epoxy resin
Window decals have been designed to represent the stream
Issued by: Wellington International Airport and Weta Workshop
Enquiries to:
Greg Thomas Tim Launder
Head of Communications General Manager – Weta Limited
+64 21 430435 +64 4 909 4105
+64 4 3855148 tim.launder@wetaNZ.co.nz
greg.thomas@wellingtonairport.co.nz