Wellington Airport sets world first for an electric plane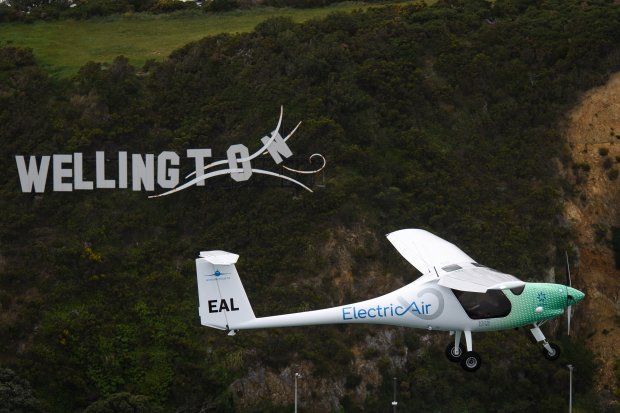 Wellington Airport is welcoming the future of sustainable air travel, setting a record for the world's longest flight over water by a pure electric plane.
Wellington Airport welcomed the future of sustainable air travel when the first electric plane to fly into New Zealand's capital touched down.
The crossing of the Cook Strait by the two-seat light aircraft, owned by Christchurch-based ElectricAir, set a record for the world's longest flight over water by a pure electric plane. It will be at Wellington Airport for a week, providing an opportunity for the airport, partners and the Government to see what the future of electric travel might look like.
In welcoming the ElectricAir plane, Wellington Airport is also outlining its own plans to invest in the electrification of the airport's infrastructure.
The airport is set to host some of the earliest commercial electric routes in New Zealand when Sounds Air launches its planned all-electric zero emission passenger services in 2026.
Steve Sanderson, Chief Executive of Wellington Airport, said the visit by the ElectricAir plane provides a glimpse of what future sustainable air travel might look like.
"Electric aircraft on short-haul regional routes are key to sustainable air travel in future. Wellington Airport is developing an electrification plan, assessing energy needs, planning for future infrastructure requirements, and working with airline partners. This is a cornerstone of our sustainability strategy and efforts to reduce emissions."
Electric aircraft require more parking space and potentially larger infrastructure footprint and Mr Sanderson said the airport has taken this into account in its expansion plans.
"Wellington Airport is dedicated to playing our part in New Zealand's net zero plans. Our current space constraints mean aircraft can wait longer for gates, increasing fuel burn, and we have limited capacity to cater to the needs of low emission aircraft in the future.
"The arrival of the electric plane today marks the start of us getting ready for electric travel in the future and making sure we have the infrastructure in place to facilitate our first electric flights with Sounds Air.
"Electric aircraft will be smaller and more numerous, requiring more aircraft stands; and hydrogen and sustainable fuels will require additional infrastructure. Our expansion plans, coupled with future technology, will allow room for aviation growth while limiting emissions."
ElectricAir founder Gary Freedman partnered with Wellington Airport and Sounds Air on today's historic flight of the light-sport aircraft built by Slovenian company Pipistrel.
"Flying an electric plane into Wellington Airport is an aviation milestone, but it's also proof that low emissions aviation has landed. Our aircraft can replace 90% of the emissions from flight training and we hope that all flight schools will adopt this technology.
"We're proud to be working with like-minded aviation partners like Wellington Airport and Sounds Air on this journey to clean up our skies."
Sounds Air Chair Rhyan Wardman said the airline is advancing its own plans to convert its fleet to be able to offer all electric, zero emission scheduled passenger services for New Zealand.
The company is working with Swedish-based Heart Aerospace, developers of the ES-19, a 19 seater battery electric aircraft.
Sounds Air will be Heart's Australasian launch partner, with plans to introduce 19-seater battery electric aircraft across its passenger network from 2026.
"As a regional airline, committed to the advancement of electric flight in New Zealand, Sounds Air knows first-hand the importance of building the right industry partnerships," says Mr Wardman.
"Wellington Airport was quick to come on board to support our ambitions and we are working together to ensure that the right infrastructure and systems are in place to enable electric flight. Entrepreneurs like ElectricAir are part of the mix and it is good to have them as part of the journey."
The battery electric two-seat light aircraft was brought to New Zealand by ElectricAir Founder Gary Freedman. It is designed as a training aircraft and is available for people wanting to experience electric flight and learn to fly in a more sustainable way.