Wellington welcomes back its Aussie mates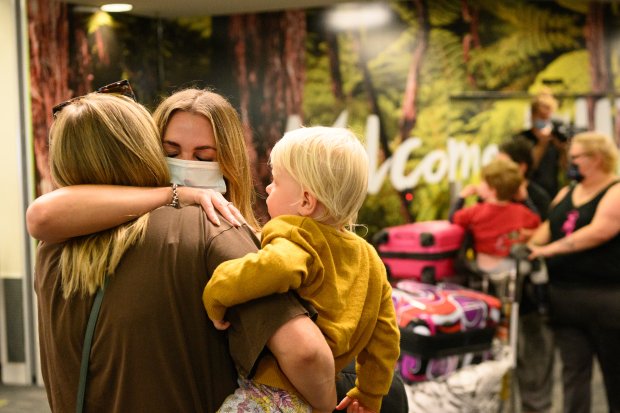 Wellington's welcome mat is dusted off and rolled out to greet visitors from Australia to New Zealand's capital city.
Air New Zealand Flight NZ270 from Brisbane on 31 March was the first direct flight since mid-2021 to arrive in Wellington. It's the first of more than 100 inbound flights scheduled before 31 May to re-establish direct air links between Wellington and Brisbane, Melbourne, and Sydney.
The news gets even better for all Australian travellers who, from 9.59pm AEST on 12 April, can experience the best of Wellington's hospitality, culture and nature without the need to isolate on arrival (so long as a pre-departure Covid test is negative).
Isolation-free arrival kicks in for visitors from visa-waiver countries such as the US, UK and Canada from 9.59pm AEST on 2 May 2022.
Australia is Wellington's most valued international visitor market. Pre-Covid, 247,000 people annually visited the Wellington region from across the Tasman. Of those, 156,000 arrived directly at Wellington Airport.
WellingtonNZ Acting Marketing & Communications General Manager Josh Gardiner is beyond thrilled to be welcoming back our Australian buddies as well as Kiwis returning to visit whānau (family) and friends.
"We know Wellington holds a special place in the hearts of many of our trans-Tasman cousins. Our casual dining scene, exceptional coffee and craft beer, as well as award winning wine, has helped create an exceptional visitor experience.
"If that's not enough to make you fall in love with Wellington, then perhaps its walking and cycling tracks through native bush on the fringe of the CBD, line-up of live performances and exhibitions and its accepting multi-cultural vibe will do it.
"Perhaps best of all, you'll get to enjoy compact Wellington alongside Wellingtonians who, following two years of border restrictions, are champing at the bit to be ambassadors of the city. A break in Wellington all adds up to the perfect way to refresh and reset after a long stint staying close to home."
Wellington Airport's Chief Executive, Steve Sanderson, says: "We are really looking forward to welcoming back our trans-Tasman neighbours after what's been almost another year with no international flights.
"Pre-Covid, Australian residents made up 70% of our total international visitor numbers and we are confident this demand will recover as people get used to the new travel arrangements, and as further restrictions are removed in future.
"In total, Wellington Airport facilitated more than 900,000 international passengers before Covid arrived at the start of 2020 and international tourists spent more than $900m in the region per year. Welcoming back these visitors will provide a huge boost to the entire tourism industry, signal the return of international students, and reinstate important connections for local business.
"It will also mean so much to many families around New Zealand who have been desperately waiting to reconnect with loved ones overseas.
"Passengers can expect a very warm welcome to the Capital. They may find the process slightly different to the last time they arrived in New Zealand, most notably rapid antigen tests will be handed out on arrival in line with Ministry of Health requirements, but we are working closely with all airport agencies to ensure their arrival is as smooth as possible," says Sanderson.
Often known as the culinary capital of New Zealand, Wellington is home to world-class coffee, fuss-free fine dining, and the finest craft beer and wine. Visitors can spend an afternoon sampling at the city's best breweries or take a 75 minute drive to the many internationally-renowned vineyards of the Wairarapa region.
Local businesses are looking forward to a much-needed boost in visitors and are eager to welcome people from near and far. Despite the ever-changing Covid landscape, new restaurants, bars, cafes and hotels have popped up over the past year – the new and notable include:
Concord: a new bistro helmed by Wellington hospo legends Sean Golding and Shepherd Elliot
Liberty: by Steve Logan, of Wellington fine dining institution Logan Brown fame
Evil Twins: run by identical twins Stephanie and Natalie Chin and known for their flavourful jar drinks
Kuikui Lane: a cosy bar woven with Māori influence and manaakitanga (care), inspired by the kuia (nans) of the world
Kokomea PurePod: a luxurious eco-friendly glass pod with spectacular views
Intrepid Hotel: created by Sean Golding and Alex Cassels, two Wellingtonians who love to travel and dine, The Intrepid carefully fuses luxury, local and convenience in the heart of Wellington
Pipinui Point: perched on a clifftop 250m above the Tasman Sea and surrounded by nature at every viewpoint, Pipinui Point at Boomrock is the luxury getaway you've been dreaming of.
The city is also welcoming back major performing artists in the summer of 2022/23, including Guns N' Roses on 8 December 2022, and music megastar Ed Sheeran kicks off his +-=÷x tour (pronounced 'The Mathematics Tour') in Wellington on 2 February 2023.
It will be something of a homecoming for Sheeran, who is famously on record as saying "my favourite city in the world to be in is Wellington".