Hermes Airports receives the Airport Carbon Accreditation Level 3+ "Neutrality"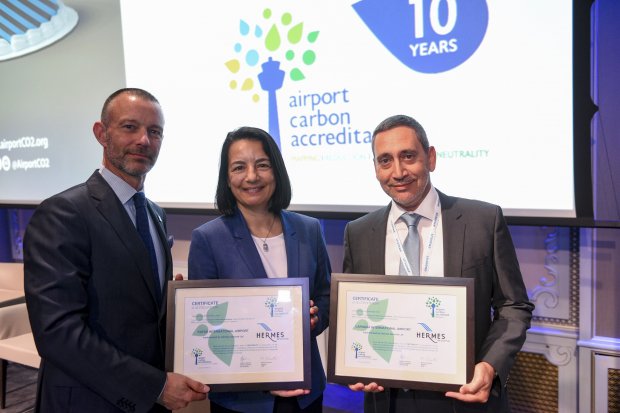 Hermes has acquired the fourth and highest level of Airport Carbon Accreditation in less than three years since joining the initiative of ACI to tackle the climate change and carbon emissions. The ACA (Airport Carbon Accreditation) is issued by the ACI (Airports Council International) and focuses on efforts to map, calculate, reduce, optimize and offset carbon dioxide emissions across the globe.
The ACA Level 3+ Neutrality certificates were presented to Hermes Airports Chief Executive Officer Ms. Eleni Kaloyirou and Chief Operating Officer Mr. Miltos Miltiadous, by the Director General of ACI Europe Mr. Olivier Jankovec, during the ACI Europe Annual Assembly & Congress held in Cyprus.