About the Destination Sponsor
TakeOff 2019 was hosted in Orlando/Sanford, Florida, with Orlando Sanford International Airport (SFB) as the destination sponsor.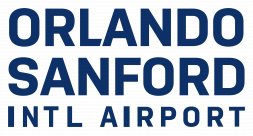 Orlando Sanford International Airport (SFB)
Originally constructed as Sanford Naval Air Station, Orlando Sanford International Airport (SFB) once served as a United States naval station. With roots dating back to World War II, its original function was a training base for land-based patrol bombers and carrier-based fighter aircraft. After permanently being decommissioned in 1969, the City of Sanford acquired the Airport as a general aviation facility. The Sanford Airport Authority (SAA) was created to oversee the airport and in 1996, the airport was renamed Orlando Sanford International Airport (SFB).
Conveniently located in Sanford, Florida, SFB is one of two airports serving the Orlando area. The over three million passenger airport is about 45 minutes from Orlando's many attractions including Walt Disney World and Universal Studios, serving as a gateway to the country's #1 tourist destination. The airport's newly launched shuttle service, the Attraction Express, provides passengers round trip transportation from the airport to three Universal hotels: Loews Sapphire Falls Resort, Universals Aventura Hotel, and Universals Cabana Bay Resort.
Additionally, SFB is located 45 minutes from Florida's Atlantic Coast city, Daytona Beach. Home to the famous NASCAR Daytona 500 race and miles of beautiful sandy beaches, Daytona is one of the most infamous destinations in the state of Florida.
With over 75 nonstop destinations, SFB provides service to major US cities in the Midwest and east coast to outbound travellers. The airport is currently serviced by Allegiant Air, TUI, Surinam Airways, and Via Airlines.
Modern, yet steeped in rich history, SFB's spacious airfield is also home to one of the largest flight schools in the country, L3 Academy, producing more than 800 pilots every 10 months.
Orlando Sanford International Airport is operated through a public/private partnership between the Sanford Airport Authority (SAA) and Airports Worldwide (AWW). AWW is contracted to manage international and domestic terminals, develop additional air services, and provide ground handling and cargo services. This unique partnership creates benefits for both airline partners and passengers.
Learn more about Orlando/Sanford